Good morning!

I just want to share a funny thing that happened yesterday... as it provoked lots of funny coments on my Cheeky Witch Facebook Page!

I went to see my doctor, as I have had a little lump on my foot for a few weeks and thought I should get it checked out.

After examining the lump/bump - imagine my surprise when my doctor advised me to go home and "hit it with a bible"!

I burst out laughing saying "I don't own a bible and as I am a pagan - a witch - if I pick up a bible I am likely to go up in flames!"

We both had a good giggle about it!

After sharing the story on my facebook page I really enjoyed reading everyone's comments - and decided to try hitting it my my Encyclopedia of Witchcraft instead!

I'm a bit of a wimp and I don't think I hit it hard enough though - as the lump is still there... so I may have to try again later ;)
Running a bit late today - lots of stuff to do - and I am VERY excited as my daughter Katie is traveling over from France and my daughter Aimee is traveling down from Warrington - to join the rest of the family for a weekend of celebrations - for my Mum's 75th birthday tomorrow!
I don't often get all four of my children together at the same time - so the next few days are very precious to me and all of us!
We do love our big family get-togethers!
Whatever your star sign - I hope you have a wonderful weekend too :)
Brightest Blessings,
Kaz
www.blessingz.co.uk
www.cheekywitch.co.uk
This week I am using
by Sally Morningstar
Quoted from the pack: "The Wicca Pack, weaving magic into your life. Contains the Wicca Book and set of Divinatory cards. Wiccan Magic. learn the basics of working with high magic, the importance of sacred spaces, the timing of high days and holy days, and the correct use of magical crafts. Connect with the archetypes of the ancient Pagan deities, and use the beautifully illustrated cards to develop your latent intuitive skills and explore the world of natural magic through inner spiritual work."

My personal card for today

: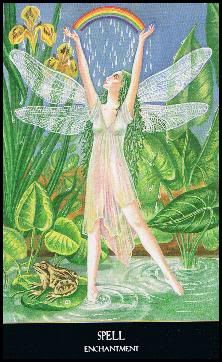 SPELL - Enchantment
High Note: A wish shall be granted.
Low Note: Illusions and fantasies are being uncovered.
Vibration: Astral
Keywords: Enchantment, illusion, fantasy.
Meaning: Spell indicates that enchantment is in the air - that a magical time is coming into your life, especially if you have been calling for something. Spell also advises you to look at self delusion. Like Rumpelstiltskin after his long sleep, you may well find that you "wake up" from a dream or illusion when this card appears.
See life as it presents itself, and remember that when you follow the ways of the wise, you will always be shown the truth. Expect it to be revealed.

Today's cards for each of the star signs

:

Due to lack of time, etc. These are the 'quick reading' messages - for the full reading and meaning of the cards you will need to obtain these cards for yourself - or get someone else to buy them for you as a gift!

Here are your messages and insights for today. Try to sit quietly for a few moments, meditate on your card and think about how you can learn from, and act upon, its message...

Aries

: BLACK CAT - Psychism

High Note: Visionary skills guide your way

Low Note: Psychic awareness is required.

Vibration: Third Eye Chakra

Keywords: Psychism, clairvoyance, psychic protection

Taurus

: CRYSTAL BALL - Insight

High Note: Clear vision now creates your future.

Low Note: Follow your own counsel.

Vibration: Third Eye Chakra

Keywords: Insight, divination, vision.

Gemini

: OWL - Wisdom Keeper

High Note: Watch, wait, and be wise.

Low Note: Love your fears to lighten the shadows.

Vibration: Soul.

Keywords: Wisdom, truth, life direction.

Cancer

: SPIRAL - Attraction

High Note: Change is coming.

Low Note: Release, let go, prepare.

Vibration: Formative ethers

Keywords: Attraction, release, movement.

Leo

: BAT - Rebirth in Consciouness

High Note: Consciousness awakens your flight to freedom.

Low Note: This too will pass.

Vibration: Third Eye Chakra

Keywords: Rebirth, change, spiritual awakening

Virgo

: GAIA - Healing

High note: Unconditional love is the key to healing

Low note: Embrace what needs to be healed with love.

Vibration: Body and Soul

Keywords: Healing, lucid, dreaming, nourishment.

Libra

: THE GREEN MAN - Growth

High note: Fertile opportunities are offered

Low note: Honor and respect yourself and others at all times.

Vibration: Astral

Keywords: Growth, fertility, prosperity, confidence

Scorpio

: THE HORNED GOD - Life Force

High Note: Fun and celebration are indicated.

Low Note: Be honorable. Find what makes you truly happy.

Vibration: Base Chakra

Keywords: Life force, inhibitions, joy.

Sagittarius

: BELL - Awakening

High Note: Celebrate a change in circumstances.

Low Note: Wake up! It is time to listen and learn.

Vibration: Throat Chakra.

Keywords: Awakening, summoning.

Capricorn

: THE MOON - Timing

High Note: Heavenly light illuminates a hidden treasure.

Low Note: Don't be deceived. Learn to stand in your power.

Vibration: Sacral Chakra.

Keywords: Timing, revelation, knowing.

Aquarius

: THE SILVER BOUGH - Love

High Note: The heart is open to love and harmony.

Low Note: Hold desires and wants in check.

Vibration: The Heart

Keywords: Love, happiness, health.

Pisces

: CHALICE - Fertility

High Note: You are the vessel for divine grace to fill

Low Note: Embody what you would like to become.

Vibration: Sacral Chakra

Keywords: Fertility, healing, harmony.
Please feel free to leave any comments here on Blogger, or on my Facebook Page
The Daily Divination
, or on
Twitter
Thank you!