Good morning!

It's a 'grey' day, not very warm and the energies feel 'different'...

I can't quite describe what I'm feeling... A quiet moment.. a pause... expectancy? Calm before the storm?

Is anyone else feeling it too? Or is it just related to me and my world? I would be interested to know your thoughts and feelings.

Lots to do today (as usual) emails to read and respond to, orders to make, etc - but also preparations for the weekend - as the family are all coming for my Mum's 75th birthday!

I LOVE our family get-togethers!

So, I shall make a big effort to manage my time better than usual - I am really terrible at time management :(

I shall make a list!

1. Do cards and messages!
2. Make more coffee..
3. Plan the rest of the day!

Whatever your star sign - enjoy your day :)

Brightest Blessings,
Kaz
www.blessingz.co.uk
www.cheekywitch.co.uk



This week I am using
by Sally Morningstar
Quoted from the pack: "The Wicca Pack, weaving magic into your life. Contains the Wicca Book and set of Divinatory cards. Wiccan Magic. learn the basics of working with high magic, the importance of sacred spaces, the timing of high days and holy days, and the correct use of magical crafts. Connect with the archetypes of the ancient Pagan deities, and use the beautifully illustrated cards to develop your latent intuitive skills and explore the world of natural magic through inner spiritual work."

My personal card for today

: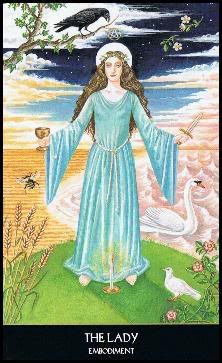 THE LADY - Embodiment
High Note: All that you need is present.
Low Note: Issues of disempowerment are highlighted.
Vibration: Archetype.
Keywords: Embodiment, character, empowerment.
Meaning: The Lady signifies that you may have been feeling different recently. New blood seems to be coursing through your veins and you are changing as a result. It is possible to embody any characteristics we choose, and by so doing, match the energies that are presenting themselves to us in our outer world.
The Lady indicates that you do have the ability to stand up for yourself, even if it doesn't seem like it sometimes. You are the power behind your reality. If your reality does not fit your dream - start to change it now. Call for the energies that are required to fill you with whatever you need. Believe in your power and your strength.

Today's cards for each of the star signs

:

Due to lack of time, etc. These are the 'quick reading' messages - for the full reading and meaning of the cards you will need to obtain these cards for yourself - or get someone else to buy them for you as a gift!

Here are your messages and insights for today. Try to sit quietly for a few moments, meditate on your card and think about how you can learn from, and act upon, its message...

Aries

: CANDLE - Illumination

High Note: Your inner light guides your way.

Low Note: Energy management is required.

Vibration: Throat Chakra.

Keywords: Illumination, sacrifice, inner radiance.

Taurus

: THE HORNED GOD - Life Force

High Note: Fun and celebration are indicated.

Low Note: Be honorable. Find what makes you truly happy.

Vibration: Base Chakra

Keywords: Life force, inhibitions, joy.

Gemini

: THE HIGH PRIEST - Guardian

High note: With wisdom, absolutely anything is possible.

Low note: Humility is highlighted.

Vibration: Consciousness.

Keywords: Guardianship, wisdom, guidance.

Cancer

: OWL - Wisdom Keeper

High Note: Watch, wait, and be wise.

Low Note: Love your fears to lighten the shadows.

Vibration: Soul.

Keywords: Wisdom, truth, life direction.

Leo

: SERPENT - Power

High Note: Life force energy is now increasing. Be wise.

Low Note: Inhibitions are highlighted.

Vibration: Ray of Creation

Keywords: Sexuality, Wisdom.

Virgo

: WIZARD - Spiritual Impeccability

High Note: Actions taken now wield powerful results.

Low Note: More ego, less spirit.

Vibration: Spirit.

Keywords: Impeccability, egotism, self-importance.
Libra

: RAVEN - Keeper of Secrets

High Note: Occult gifts are being activated.

Low Note: Shadows on the soul require attention.

Vibration: Soul.

Keywords: Occult knowledge, magic, mastery.

Scorpio

: SPIDER - Patterns

High Note: The joys of creating your own reality are the threads.

Low Note: Challenge issues of control and manipulation in self and others.

Vibration: Solar Plexus Chakra

Keywords: Patterns, free will, self-expression.

Sagittarius

: SPELL - Enchantment

High Note: A wish shall be granted.

Low Note: Illusions and fantasies are being uncovered.

Vibration: Astral

Keywords: Enchantment, illusion, fantasy.

Capricorn

: CHALICE - Fertility

High Note: You are the vessel for divine grace to fill

Low Note: Embody what you would like to become.

Vibration: Sacral Chakra

Keywords: Fertility, healing, harmony.

Aquarius

: BROOMSTICK - Cleansing

High Note: Prepare for fun, frolics and high energy.

Low Note: Clear blocked or stale energy at all levels.

Vibration: Sacral Chakra.

Keywords: Cleansing, protection, preparation.

Pisces

: THE MOON - Timing

High Note: Heavenly light illuminates a hidden treasure.

Low Note: Don't be deceived. Learn to stand in your power.

Vibration: Sacral Chakra.

Keywords: Timing, revelation, knowing.
Please feel free to leave any comments here on Blogger, or on my Facebook Page
The Daily Divination
, or on
Twitter
Thank you!