Good morning!

Last night, on my Cheeky Witch Facebook page I shared this picture from The Wiccan and Pagan Community page, with the advice to "Notice the synchronicities in your life."



Well, I've had some 'synchronicites' in action this morning!
I was having a quick read through Facebook messages while drink my coffee first thing and clicked on a link to read this interesting and moving story
The Passing of the Oak Tree
- which brought back memories of my beloved Horse Chestnut Tree, Joseph, which was in my garden, when I lived in France.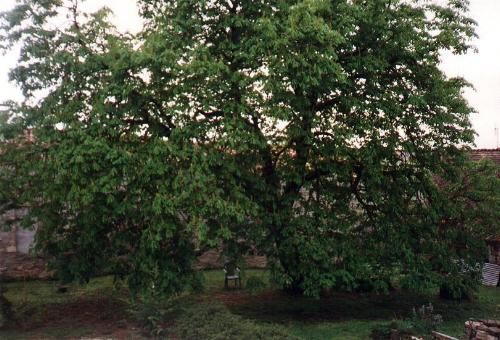 I thought to myself:
"Maybe I should share my story of Joseph on my blog today?"
I did a search online, to find a copy of my old defunct Geocities website, which had the story, as written at the time in my old newsletter/ezine, 'In*Sync', way back in 1999, so that I could copy the text, find the photo's etc...
While doing that, there was a knock at the door and it was the postman with a parcel, that needed a signature, and he also had a card for me.
The card was from an old friend, Pat, who I haven't heard from for a very long time (she is not on the internet) and who used to get the printed version of In*Sync, many, many years ago. In fact, that's how we met - through her being given one of my newsletters by a mutual friend.
Inside the the card, she wrote to tell me her news and a general 'catch up' and then she mentioned:
"I also want to tell you that I have still got a lot of In*Sync books and only last week I photocopied a couple of pages for someone - so you see they are still being passed on and are of help to people, you shoud be proud of all you did with them."
I was very choked and amazed at the Synchronicity!
So here it is - a link to my story about
Joseph the Healing Tree
copied exactly as it appeared in issue number 16 of In*Sync, in the Summer of 1999!
I have to add that shortly before I left France, the following year, when I was going through a very traumatic time, there was an incidence when I had some English friends round to visit and we heard a very loud crack and then a crash in the garden and rushed out to find that a whole bough had broken off, from the top of my tree.
It was a real shock! However, at that moment I felt the spirit of the tree, Joseph, had gone. He'd left to help me - to be one less thing for me to worry about in my huge and difficult decision to leave France... but that's another story...
It's time to get on with some orders, so I'd better get on with the cards and messages for Wednesday - but one last thing, I nearly forgot!
The card that I received from my friend today as a picture of a beautiful Kingfisher on the front and, as we are looking at animal totems this week, I had a quick look in my Ted Andrew's '
Animal Speak
' book and for Kingfisher it says:
Keynote: New warmth, Sunshine, Prosperity and Love.
A lovely positive note to start the day!
Whatever your star sign - have a positively wonderful day :)
Brightest Blessings,
Kaz
www.blessingz.co.uk
www.cheekywitch.co.uk

This week I am using the
Power Animal Oracle Cards


by Steven D.Farmer, Ph.D.


Quoted from the pack: "Power Animals are spirit guides in animal form who provide protection, guidance and healing. This deck of 44 oracle cards by Steven Farmer will connect you with animal spirit guides who will advise you about any aspect of your life. Whether you're a beginner or an experienced reader, the enclosed easy-to-follow guidebook provides instructions to help you immediately give accurate readings to yourself and others."
My personal card for today

: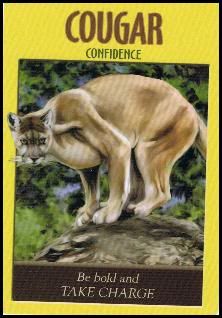 COUGAR - CONFIDENCE
Be bold and TAKE CHARGE
Divinatory meaning: You're being called to take a role of leadership, and it's natural for certain fears and considerations to surface, such as "Will I be seen as arrogant, bullying, or full of myself? Will others listen to me? Will I be challenged?" Well the truth is, these are all possible. You need to rise above all these mind-made fears, and heed the call. Whether you realise it or not, you're a natural leader, and there's no need to diminish the hard-earned skills you learned through life lessons just so you can play it safe. What you have to offer is needed right now, whether it's with your partner, your family your community, or the larger world around you.
You will be judged. Count on it. And you need to hear these judgements, yet not allow them to rule you. Don't mistake ego-driven stubbornness and wilfulness for determination. Listen to the voice of your inner nature and wisdom to guide your choices. Acknowledge that everyone else has to make their own choices - including their response to you. Remember that effective leaders are good listeners. They know when to follow and when to lead, and when to move forward and when to hold still.
Additional Associations: Stealth; Leadership; Focus; Conviction

Today's cards for each of the star signs

:

Due to lack of time, etc. These are the 'quick reading' messages - for the full reading and meaning of the cards you will need to obtain these cards for yourself - or get someone else to buy them for you as a gift!

Here are your messages and insights for today. Try to sit quietly for a few moments, meditate on your card and think about how you can learn from, and act upon, its message...

Aries

: DOVE - SERENITY

SLOW DOWN, pause, and breathe

Additional Associations: Love; Soul; Domesticity; Spirituality

Taurus

: BADGER - PERSEVERANCE

Dig in and see it through to COMPLETION

Additional Associations: Self-reliance; Determination; Assertiveness; Willingness

Gemini

: COYOTE - WISE FOOL

ACCEPT YOUR FOLLIES and find the teaching in them

Additional Association: Trickster; Sociability; Adaptability; Wisdom-Keeper
Cancer

: SEAL - IMAGINATION

IMMERSE YOURSELF in artistic and creative projects

Additional Associations: Creativity; Grace; Adaptation; Playfulness

Leo

: BUFFALO - ABUNDANCE

YOU ARE PROVIDED FOR in all ways

Additional Associations: Generosity; Gratitude; Surrender; Sacrifice

Virgo

: DEER - PATHFINDER

TRUST YOUR INSTINCTS to guide you through this situation

Additional Association: Gentleness; Cunning; Grace; Purity

Libra

: BLACK PANTHER - PASSION

Follow your PASSION

Additional Associations: Sensuality; strength; Clarity; Solitude

Scorpio

: EAGLE - SPIRIT

TRUST in your higher self

Additional Association: Vision; Courage; University; Masculinity

Sagittarius

: RACCOON - RESOURCEFULNESS

You have all the RESOURCES you need

Additional Association: Stealth; Ingenuity; Cleverness; Dexterity

Capricorn

: WHALE - SOUL'S PATH

HONOR your soul's purpose

Additional Associations: Migration; Devotion; Communication; Soul Memory

Aquarius

: ANTELOPE - DECISIVENESS

MAKE A DECISION and take appropriate action

Additional Associations: Vigilance; Action; Speed; Sacrifice

Pisces

: OTTER - SURRENDER

LET GO of control

Additional Associations: Sensuality; Merging; Family; Playfulness

Please feel free to leave any comments here on Blogger, or on my Facebook Page
The Daily Divination
, or on
Twitter
Thank you!