Good morning!

A Manic Monday is being followed by a Terribly Busy Tuesday - so just time to share this link to another of my 'Crystal Clear' articles - this time it's The Healing and Magical Properties of Carnelian.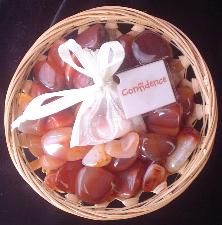 Whenever I have a stall at a fair, or festival (or at Halloween) when children take a 'lucky dip' into my 'Bag of Magick Crystals' very often a shy, timid child will pull out a Carnelian - and when I tell them that it will help them to have more confidence, they immediately look at their parent with a look of absolute wonder on their faces! The parent usually agrees that it's just what they needed...
I LOVE it when children are touched by the magic of crystals :)
On with the cards and messages for Tuesday!
Whatever your star sign - have a wonder-filled day :)
Brightest Blessings,
Kaz
www.blessingz.co.uk
www.cheekywitch.co.uk

This week I am using the
Goddess Guidance Oracle Cards


by Doreen Virtue, Ph.D.


Quoted from the pack: "The goddesses are angelic, powerful, loving beings who want to help you with every part of your life. In this set of oracle cards by Doreen Virtue, you'll learn who the different cross-cultural goddesses are and how they can help you. Each card gives a specific message about how you can improve your life, health, relationships, finances, career, and spiritual path. The gorgeous artwork on each card depicts Kuan Yin, Laksmi, Brigit, Isis and Athena; as well as goddesses Celtic, Mayan, Egyptian, Greek, Tibetan, Buddhist and other traditions.
The accompanying guide book helps you to give accurate readings for yourself, your loved ones, and your clients. Whether you're a beginner or seasoned pro, you'll find that working with the goddesses brings Divine magic into your life."

My personal card for today

: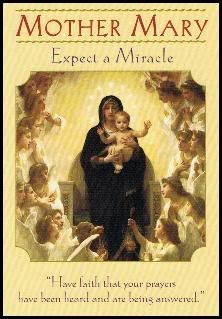 MOTHER MARY - Expect a Miracle
"Have faith that your prayers have been heard and are being answered."
Message from Mother Mary: "Faith is the light that illuminates your pathway. Without faith, the future looks very frightening. that's why it is essential for you to take whatever steps are necessary to keep your mind and heart filled with faith. Please don't give up hope on yourself or other people. Keep the candle of faith burning within your soul, as that one small inkling of hope can eradicate the darkness of despair. Be the light that eliminates someone else's gloomy hopelessness as well. For as you make others stronger, it strengthens not only yourself but the entire world."
Various meanings of this card: Let go of worrisome thoughts * Keep your thoughts positive * Notice and follow any Divine guidance you may receive * Pray * Engage in spiritual healing.
Today's cards for each of the star signs

:

Due to lack of time, etc. These are the 'quick reading' messages - for the full reading and meaning of the cards you will need to obtain these cards for yourself - or get someone else to buy them for you as a gift!

Here are your messages and insights for today. Try to sit quietly for a few moments, meditate on your card and think about how you can learn from, and act upon, its message...

Aries

: ABUNDANTIA - Prosperity

"The universe is pouring its abundance out to you. Be open to receiving."

Various meanings of this card: be open to receiving * A new windfall of money is coming to you * You have nothing to worry about * Your new venture will be financially successful * Visualize and affirm abundance * Abundance comes to you in many ways, including extra time, support and ideas.

Taurus

: SEKHMET - Be Strong

"You are stronger than you think you are, and your strength assures a happy outcome."

Various meanings of this card: Don't underestimate yourself * Don't yield to pressure or temptation * Avoid complaining or indulging in negative thinking * Engage in weight training exercises to make your body stronger.

Gemini

: VESTA - Home

"Your household situation is improving, either through a move or healthy change in the occupants."

Various meanings of this card: You're moving to a new home * You've just moved * A new person is moving in * Someone is moving out * There is increased romance and/or harmony in the home * A problem with neighbours is resolved * Clear the space in your home * Remodel * Know that your home is safe and protected.

Cancer

: PELE - Divine Passion

"Be honest with yourself: What is your heart's true desire?"

Various meanings of this card: Make sure your career matches your true interests * Take a class or start a hobby that really excites you * Change jobs * Go on a wonderful trip * Invest time and money in manifesting your dreams * Give yourself permission to go for it * Start a new business * Make an honest assessment of how you spend you time * List your priorities.

Leo

: OONAGH - Easy Does It

"There is no need to hurry or force things to happen. Everything is occurring in perfect timing."

Various meanings of this card: Don't worry about your purpose or your goals * Make no sudden moves * Slow, steady progress is best right now * Ease into your new life instead of rushing into it * Do your new work as a part-time venture to begin with, while slowing exiting your old career.

Virgo

: SULIS - Bodies of water

"Spend time near water, such as a lake, river, or the ocean, to recharge your batteries."

Various meanings of this card: Go for a meditative walk near water * Take a vacation near the ocean * Move to a home closer to a body of water * Swim * Take a sea salt bath to detox your energetic and physical body * Drink more water.
Libra

: CORDELIA - Go outside

"You have been indoors too long. Go outside and get some fresh air."

Various meanings of this card: Your manifestation will appear in May and/or when the weather is warmer * Spend time in nature * Change to a job that allows for more connection with nature * Practice environmentalism * Recognize the need for balance in your life.

Scorpio

: ISOLT - Undying Love

"The love you have shared is eternal, regardless of the situation."

Various meanings of this card: Love from your romantic partner is eternal, regardless of outward appearances * You're healing from a break-up * You're healing from some other type of loss * Let go of an old relationship to make room for a new one * The love that you send into the world is an important part of your Divine purpose * Your deceased loved one is happy and sends you love.

Sagittarius

: LAKSHMI - Bright Future

"Stop worrying. Everything is going to be fine."

Various meanings of this card: You and your loved ones will be protected and provided for * Let go of any 'bag-lady' fears about your future * Hold positive thoughts and intentions * Know that you'll always have your needs met, now and in the future * Don't worry about money, but instead visualise abundance.

Capricorn

: RHIANNON - Sorceress

"You are a magical person who can manifest your clear intentions into reality."

Various meanings of this card: Have absolute faith that your dream is manifested * Make a clear decision * Put your energy into manifesting your dreams * Know that you deserve to receive good * When you win, others win too * Keep your thoughts focused on your desire and away from fear.

Aquarius

: ISIS - Past Life

"This situation involves your past-life memories."

Various meanings of this card: Get a past-life regression to gain insights and answers * Ancient fears from the past are surfacing right now * You've known the person you're enquiring about in a past life. * Your current situation relates to a childhood issue.

Pisces

: DAMARA - Guiding Children

"You are good at helping, counselling, and healing children. Use your skills to help children now."

Various meanings of this card: Spend time with, or have a heart-to-heart talk with your own children * Get into a career involved with helping kids * Volunteer with young people * Know that children will be coming into your life soon * You will be a parent * Take care of your own inner child through play and laughter.

Please feel free to leave any comments here on Blogger, or on my Facebook Page
The Daily Divination
, or on
Twitter
Thank you!