Good morning!

I hope you had a good weekend?

I spent mine finishing getting my accounts in order (horrible job) - with the help of my Mum, bless her - and everything has now been sent to my wonderful accountant, so he can make sure I've done it right and then submit them to the tax man for me.

I have made a new New Year resolution - to keep on top of my 'accounting' and do it monthly, instead of getting in a panic and doing a whole year at once, just a couple of weeks before the deadline!

My Mum and Richard have agreed to politely remind me (nag me) to make sure I do it...

Have you got snow where you are? We woke up to a nice little dusting of snow here, looks very pretty, but that's enough, thank you :)

Time for me to get on with some orders, so here are the cards and messages for Monday - I'm using the Magical Unicorns Oracle Cards this week.

Whatever your star sign - have a good day :)

Brightest Blessings,
Kaz
www.blessingz.co.uk
www.cheekywitch.co.uk



This week we are addressing the 'inner child' because I am using the
Magical Unicorns Oracle Cards
by Doreen Virtue, Ph.D.
Quoted from the pack: "With the Magical Unicorns Oracle Cards deck, you can receive messages and guidance related to your present life, your future, and your spiritual path. Suitable for adults and children of all ages, each card features a beautiful unicorn painting and a life-affirming message. The enclosed easy-to-follow guide book, allows you instantly give accurate readings to yourself and others."
These cards are beautiful and the messages are simple, innocent and child-like. They can be used to help teach your child how to use and work with guidance cards, but also it is nice to address our own 'inner child' at times... so that's what we're doing this week!

My personal card for today

: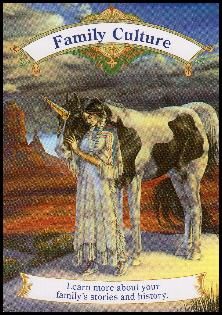 Family Culture - Learn more about your family's stories and history.
Your family's history affects you in many ways. This card asks you to learn about the stories of your family's past. Find out which countries your parents and their relatives came from. How did they travel to their current location? What languages have been spoken? What jobs have your family members held?
The answers to these questions and more will help you understand yourself better. You can also feel good about your heritage as you learn more about it. And learning about your family will help you feel closer to them.
This card also says that your past may be affecting you right now. It asks you to remember anything thing in prior times related to your present circumstances. For instance, was there an experience in which you were scared or hurt?
This card means that you need to clear this past energy, which you can do by talking to someone, like a counsellor, or trusted friend, writing about it, or asking your angels to heal you. Perhaps there was an experience so long ago that you've forgotten about it? You can ask you inner self - especially as you're falling asleep - to help you remember whatever you need to know.
The most important time in your life is right now, so don't spend too much time focused on your family's past. However, learning about it will definitely help you enjoy yourself more right now. So, take the time to ask your family and your inner mind some questions about your past, but put most of your energy into enjoying all the present moments.

Today's cards for each of the star signs

:

Due to lack of time, etc. These are the 'quick reading' messages - for the full reading and meaning of the cards you will need to obtain these cards for yourself - or get someone else to buy them for you as a gift!

Here are your messages and insights for today. Recognising your inner child, try to sit quietly for a few moments, meditate on your card and think about how you can learn from, and act upon, its message...

Aries

: Practice

Quick message: The best way to be good at a skill is to practice, practice, practice until you get it right.

As you practice, you'll learn new ways and methods. You'll also enjoy yourself more as you get better at your new skills. So, whether your dream is to paint, write, dance, sing, or do crafts, practice is one way to make your dreams come true.

Taurus

: Best friends

Quick message: True friends stick together, no matter what.

We all need friends, and spending time with them is the way that people become our best friends. So reach out to the people you like today. Talk about your feelings, play games, laugh, take a walk, eat lunch together, or just sit and watch the clouds go by. No matter what you do, it's better to do it with your best friend.

Gemini

: Pets

Quick message: You love and understand animals.

This card is a message from all animals and your own pets to let you know how much they appreciate you. Spend more time with animals, as they help you feel a sense of love that's safe and sweet. Animals also help you play and have fun. So, take you dog (or a neighbour's) for a long walk, pet a kitten, feed some wild birds, or brush your little animal friend. And be sure to give your pet fresh water and food every day.
Cancer

: Love heals fear

Quick message: The power of your love can help bullies and angry people feel less afraid.

You can heal away anger with your love. See the goodness in everybody (including yourself). Know that everyone really wants to be happy. No one likes to be a bully. No one enjoys being angry. Bullies and angry people are very lonely because their anger pushes other people away from them. So, you can help by being kind to such people.

Leo

: Love from your parents

No matter what, your mother and father love you as much as they can.

This card is telling you that your mother and father both love you, even though you may not always be able to feel their love. Everyone shows love in different ways - for example, some people show that they care through actions, such as giving you things or trying to help you. Other people express through words that they say or write. If your mother and father show their love in ways you don't understand, you can talk to them about your feelings.

Virgo

: It's okay to be different

Quick message: You don't need to be like everyone else. You're perfect just as you are!

Everyone wants to be liked, so it's normal that you want to fit in with other people. You may compare yourself with others and feel like you don't belong. You may even feel that you're not as good as other people. But this card is here to tell you that your special talents are needed in this world. You don't need to change in order to please others. If you try to be different from who you really are, you won't be happy and wont make true friends. Just trust that God made you exactly how you're supposed to be, and make the very best of what you've got!

Libra

: Love

Quick message: The answer that you're seeking is love.

This card wants you to know the simple yet powerful answer that you seek: It is love - pure love, Divine love, healing love. You can heal your current situation by acting more lovingly toward others. This card may also mean that another person really loves you but doesn't know how to show or tell you these feelings.

Scorpio

: One step at a time

Quick message: Lots of little steps make big dreams come true.

This card says that you have a big dream, but you may not know how to make it happen. The unicorns want you to know that your dream can come true if you'll focus on taking one small step at a time. If you will just do one or two things a day related to your dream, it will come true more quickly than you can imagine!

Sagittarius

: Listen to your true feelings

Quick message: Don't let others talk you into doing something that you know is wrong.

This card means that someone may ask you to do something against your better judgement. You may be tempted to give in, to please the other person. You might worry that if you say no, the other person won't like you any more. But this card reminds you that it's very important for you to listen to your true feelings before taking any action. You must choose for yourself what's right and wrong.
Capricorn

: Share

Quick message: When you share, everyone feels happy.

It's also important to let other people give to you. In friendships, both people give to each other. So let your friends share with you. All you need to do is say "Thank you" and feel happy about how fun it is to share with your friends and family.

Aquarius

: You are gifted

Quick message: You are very intelligent and talented.

If people don't understand you, don't let it bother you. What's important is that you remember who you are: a smart, wise, talented, and gifted person. Although you may be different from other people, you have a lot to offer. Use your talents to help others. Finish any projects that you start, and know that you're a gift to the world in many special ways!

Pisces

: Happy Surprise

Quick message: Something very good is about to happen.

You're in for a treat, as you'll soon have a very happy surprise. Don't try to guess what will happen… or it won't be a surprise! Instead, just feel excited and joyous. All surprises are gifts of love. The more you notice them and say "Thank you," the more gifts you'll continue to receive. Have faith, because the world really does love to give to you. The world loves it when you're happy.

Please feel free to leave any comments here on Blogger, or on my Facebook Page
The Daily Divination
, or on
Twitter
Thank you!