Good morning!

Very late with the blog this morning - sorry :)

I was up until midnight working, then got off to a slow start this morning...

When walking Maisie, I went to the Post Office with the first batch of parcels for today and was greeted by comments about how strange to see me in the daylight and references to vampires and garlic! Very cheeky! (I usually go last thing before they close, when it's dark!)

When I got back, I got straight into my emails and telephone orders... Suddenly realised it's almost midday and I haven't done the cards yet!

So here I am - with your cards and messages for Thursday :)

Whatever your star sign - have a wonderful day!

Brightest Blessings,
Kaz
www.blessingz.co.uk
www.cheekywitch.co.uk



This week I am using the
Angels of Light Cards

by Diana Cooper



Quoted from the pack: "Angels are high spiritual beings. They come from the heart of God as guides, protectors, helpers and healers. Angels are willing and able to help us in many ways throughout our lives, all we need to do is call on them and they will respond. Allow these cards to help you bring them into your life.

Diana Cooper, best selling author of 'A Little Light on Angels', 'A Little Light on Ascension' and 'A Little Light on the Spiritual Laws' has created this beautiful new set of cards. This pack contains 52 cards, a 48 page booklet and a velvet bag which will allow you to carry the cards wherever you go."

(These cards do not have different illustrations just the beautiful image below on the back and all text on the front.)

My personal card for today

: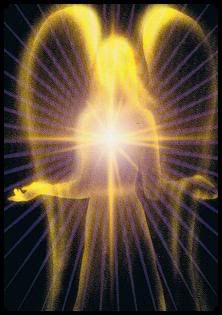 ADVENTURE
Full meaning: Life is an adventure. Be ready for the unexpected and make the most of all opportunities.
The angel wisdom suggests you get out of any habits or ruts in which you are stuck. Do things which are different and face life with a sense of wonder.
If the path ahead seems dark, do as you would if you were exploring a dark place. Ask your angels to light the way. Then watch for the signs and signals that tell you where and how to go.
Explore the new with excitement and courage. These magnetic qualities attract money and career openings and add zest to relationships.
The angels are inspiring you to move forward with anticipation, expectancy and hope.
Affirmation: I face the adventure of life eagerly.

Today's cards for each of the star signs

:

Due to lack of time, etc. These are the 'quick reading' messages - for the full reading and meaning of the cards you will need to obtain these cards for yourself - or get someone else to buy them for you as a gift! (The link below is to the new 'revised' edition of these cards - I am using the older version - I believe it is only the images which are different...)
Here are your messages and insights for today. Try to sit quietly for a few moments, meditate on your card and think about how you can learn from, and act upon, its message and repeat your affirmation throughout the day...
Aries

: LIGHT

Quick message: Light illuminates darkness and gloom, bringing hope and inspiration. Ask the angels to fill you with more light, for it contains spiritual information and knowledge. These are the keys to the Universe and bring love and peace, as well as unlocking the wisdom within you. As your light becomes stronger and clearer, you will find clarity and purpose. Angel wisdom suggests you ask the angels to ignite and strengthen the Divine flame within you.

Affirmation: I am a light.

Taurus

: ASPIRATION

Quick message: It is time to set your sights higher. If you are settling for the mediocre, aim for the superb. Stretch yourself to fulfil all your potential and hold mighty visions. Ask for help from the angels and they will guide and inspire you to raise your consciousness and live at a higher level. Let your spirit soar and aim for the Divine.

Affirmation: I aspire to the great and glorious.

Gemini

: SURRENDER

Quick message: Whatever you resist in life persists. Ask your angels to help you dissolve all the resistances of your ego (the inner conflict and struggle, the rigid mind sets and habits) so that they can flood your life with higher truth and joy. When you surrender to the guidance of your Higher Self, all the energy you have been using in resistance becomes available to you. Vitality, inner peace, harmony and, most of all, love, are you spiritual rewards.

Affirmation: I surrender to the flow of life.

Cancer

: OPPORTUNITY

Quick message: We are all presented with opportunities and are expected to flow with the currents that come our way. Drawing this angel card suggests that something is now being made available to you and it is up to you to use it to your greatest advantage. Be alert, be aware and be prepared. Quieten your mind and ask the angels to help you.

Affirmation: I am ready for all opportunities.

Leo

: FLEXIBILITY

Quick message: Life is full of changes and surprises. Your guidance is to move with the current, for it is resisting the flow which creates problems. Ask your angel to help you open your mind and heart to new ideas and fresh options. When you accept the possibility that there are other ways, previously unseen doorways will be opened to you and you will move easily through change. There is a solution to every problem, so look at all things with eyes of love and expectation. Then life force will flow freely through you.

Affirmation: I am free and flexible.

Virgo

: KINDNESS

Quick message: In order to be kind you must open your heart to the gentle qualities of caring and compassion. Be kind to yourself. have reasonable expectations and give yourself due praise. In order to nurture the gentle quality of kindness, cherish yourself. When you do something for yourself you automatically extend that same energy to others. Kindness melts the barriers of ice around people and re-empowers those who are afraid. So reach out to the lonely, draw out the shy, include those who feel isolated and comfort the sad.

Affirmation: I am kind to myself and others.
Libra

: SELF-WORTH

(2 days in a row!)

Quick message: Self-worth bestows a sense of confidence, expectation of success and ability to love. When you value yourself, you become open and friendly, slow to take offence and quick to forgive. With true self-worth, you radiate a golden aura which enfolds others and makes them feel good too. Ask your angels to step into your aura and guide you.

Affirmation: I am confident and worthwhile.

Scorpio

: BEGINNINGS

Quick message: Life is a series of cycles and a time of rebirth is indicated for you. This may mean a new phase in a relationship, the germination of a fresh idea or the development of qualities in you, like laughter, light or hope. It may herald a total change. Do not be afraid to let go of the familiar, for the new cannot enter until the old and outworn has departed. Your angel guidance is to accept the new for it will be welcome when it arrives.

Affirmation: I welcome and nurture the new in my life.

Sagittarius

: CLARITY

Quick message: Angel wisdom reminds you that a busy cluttered mind is a sick one and a clear mind is a divine one. Allow the wisdom in your heart to radiate out and dissolve the chatter of your mind. Know that your angel has drawn this to your attention and is waiting to help you in your task. You will soon see things differently and be able to make decisions from strength and clarity.

Affirmation: My mind is quiet, still and clear.

Capricorn

: CO-OPERATION

Quick message: Angel wisdom suggests that you use your skills and talents for the common good. Eliminate power struggles, conflict and competition, which come from a desire to win. Co-operation for the highest good promotes harmony and togetherness and draws the best from everyone. Your angel guidance is to bring people together and explore how you can mutually assist each other.

Affirmation: I co-operate with everyone.

Aquarius

: MERCY

Quick message: To develop the quality of mercy, forgive yourself and everyone around you. Be magnanimous, see the good in others and give them the benefit of the doubt. Open up to compassion, but most of all access the wisdom within that recognizes the Divine in every creature. When you temper your attitude to others with mercy, you offer them grace. You spread much light, joy and freedom and empower others to find the good in themselves.

Affirmation: I am merciful.

Pisces

: ARCHANGEL URIEL

Quick message: Archangel Uriel works on the ruby ray which is made up of purple and gold. It is the ray of wisdom and spirituality. You are blessed to attract this angel card, for he will bring you serenity, love, tranquillity and peace. You, in your turn, are invited to spread these beautiful qualities to others. Connecting with Archangel Uriel will enable you to aspire to oneness with all humanity. This is high state of grace which will bring you freedom and joy.

Affirmation: I am one with everyone in peace and serenity.