Good morning! What a glorious day!

I must admit that I really did not want to get out of bed this morning, all snug and warm under the duvet, because it was SO cold, but when I was out on the beach with Maisie (suitably attired with warm winter woolies, gloves, etc) it was wonderful!

A dazzling clear blue sky, crisp white frost glittering on the pebbles and brilliant sunshine making the sea sparkle! It felt great to be alive!

I'm feeling very happy and optimistic too, after visiting my Dad in hospital last night. I can't believe how much he has progressed since I saw him, just a few days ago. It was incredible!

He still has very little feeling in his fingers, but he was pouring himself a glass of juice, sitting completely upright on the side of his bed, chattering away and recalling some of his old 'stories' - a lot of which we've heard before - but it was so wonderful seeing him so animated and more like his old self.

He's been working hard with the 'physio-terrorists' and has progessed from tottering along using a zimmer frame, to walking using two sticks - and they reckon they'll have him down to using just one walking stick soon. He's doing lots of exercises for his hands and fingers, and co-ordination too...

At this rate there's a good chance that he may well be home for Christmas! Just got to keep everything crossed ;)

Talking of Christmas - it's that time of year when I get VERY busy and I'm getting snowed under with orders from my Krimbles Store, so I really should start making some Bags of Christmas Blessings for my customers!

Just one more coffee...

Are you putting your tree up this weekend? I am!

Please visit my Krimbles Facebook Page (and 'Like' it, if you like it!) to see lots of Krimbly pictures, jokes, cute pics (like this one) and the countdown to Krimbles! Feel free to add, or send photos of your tree and I will put them in my "Show us your Baubles" album ;)


I also have a board on Pinterest called
Krimbles and Christmas
- where I am adding lots of photos and inspiration for decorating your home and your tree...
Another board I have is called
Scrumptious Yummies
- with lots of ideas for... 'Scrumptious Yummies'!
Whatever your star sign - and whatever you're doing - I hope you have a wonderful weekend :)
See you next week!
Brightest Blessings,
Kaz
www.blessingz.co.uk
www.cheekywitch.co.uk
This week I am using the beautiful
Magical Mermaids and Dolphins Oracle Cards
by Doreen Virtue, Ph.D.

Quoted from the pack: "The Magical Mermaids and Dolphins Oracle Cards are specifically designed to help you manifest your goals, life purpose, and Divinely inspired dreams. These 44 beautifully illustrated cards can help you swim into the ocean of your unconscious mind, where profound thoughts and feelings can create - or block - your heart's desire. The cards are easy to use, and the enclosed guidebook will help you perform amazingly accurate readings for yourself and others."

My personal card for today

: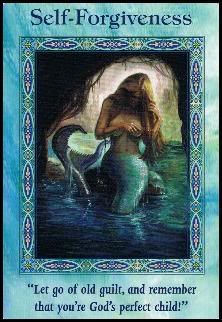 SELF-FORGIVENESS
Let go of old guilt, and remember that you're God's perfect child!
You've been very hard on yourself lately, using harsh words towards yourself verbally or mentally. While it's healthy to hold yourself up to high standards, this card says you've bordered on self-abuse! Everyone makes mistakes, and it's normal to feel regret occasionally. What's important, though, is how you handle these mistakes.
As you focus on your positive attributes, your self-esteem will increase and your stress level will be diminished. Remember that guilt is the opposite of love. Your guilt doesn't help anyone or anything, but your Divine love helps everyone, everywhere!
Affirm: "I ask that all effects of my mistakes be undone in all directions of time, and I now release all guilt completely. I love my true self, from top to bottom."

Today's cards for each of the star signs

:

Due to lack of time, etc. These are the 'quick reading' messages - for the whole message and meaning of the cards you will need to obtain these pretty cards for yourself - or get someone else to buy them for you as a gift!

Here are your messages and insights for today. Try to sit quietly for a few moments, meditate on your card and think about how you can learn from, and act upon, its message...

Aries

: MORNING AFFIRMATIONS

Say positive affirmations each morning to open the gates of manifestation.

Taurus

: CONTEMPLATION TIME

Spend time alone, meditating upon what you truly desire.

Gemini

: WATCH YOUR THOUGHTS

It's important to only think about what you desire, not what you fear.

Cancer

: MAKE A DECISION

Feeling stuck or indecisive? Listen to your intuition and make a decision!

Leo

: MAKE A WISH

This is a magical moment. Make a wish, and enjoy its manifestation.

Virgo

: DREAM BIG

Let go of small thoughts about yourself! See yourself succeeding.

Libra

: DIVINE MAGIC

Extra magical energy surrounds your situation right now. Expect miracles!

Scorpio

: STAY OPTIMISTIC

Your dreams are coming true. Don't quit right before the miracle occurs.

Sagittarius

: MUSIC FOR MANIFESTING

To manifest rapidly, think of your desire while you chant, hum, sing, or play music.
Capricorn

: MOTHER HEALING

As your feelings toward your mother heal, your desires manifest more rapidly and accurately.

Aquarius

: PROTECTION

You, your loved ones, and your possessions are safe and protected by Heaven!

Pisces

: WORTHINESS

Know that you deserve to receive in good ways.