Good morning!

We had another very stressful day yesterday, as my Dad's condition got worse :(

Mum had called for a doctor at 8:30am - no one came. She called again at lunch time - after not hearing from anyone - and then, early in the afternoon Dad fell on the floor and so Mum called 999 for an ambulance. The doctor finally arrived after the ambulance had got here!

After a 4 hour wait in A & E on Saturday, we spent hours in there again yesterday :(

He was strapped in a rigid neck-brace for 5 hours! When Mum and I got there later, we found that he hadn't been given any pain relief, he hadn't been tested for any other underlying problems and we had to deal with 3 different doctors... explaining the full story over and over again. I kept trying to tell them that we thought he may also have a urine infection and eventually they did blood and urine tests and discovered that yes, he did indeed have an infection!

So, since last week they have only been looking at his neck problem - not looking at him as a person. We, his family, know him best. We know what sort of a man he is and how fit and healthy he usually his - and we knew there was something very wrong. He's been passed from doctor to doctor, who just said he has muscular problems in his neck, they 'upped' his pain meds and told him to rest.

When we finally had a really GOOD doctor, a caring doctor, who listened to what we had to say about Dad and who looked at him as a whole person and not a single symptom - we actually all came to the conclusion that:

1) Dad has a neck strain/spasms/muscular problem, which is causing him to be in constant agony, and possibly a trapped nerve which is making his left arm and hand numb.

2) He was 'over-medicated' with very strong painkillers, which made him weak, confused and unable to think properly - and contributed to his collapse yesterday.

3) Underlying all that, he has a urine infection, which no one had picked up on. (Even though he had a prostate op recently, and everything should have been in his computer records!)

So Dad has been in hospital overnight, they have begun to treat the infection, they will sort out the pain meds - and he may have to have an MRI scan to see what's going on with his neck!

We're hoping they will keep him in for a few days, until he is properly on the road to recovery...

Once again, any prayers and healing sent - and to my poor Mum too - would be gratefully received. Thank you.

I'm all in a muddle this week, don't know if I'm coming or going and things are stacking up around me... I'd better get on - lots of orders to sort out!

Whatever your star sign - have a good day :)

Brightest Blessings,
Kaz
www.blessingz.co.uk
www.cheekywitch.co.uk



This week I am using the
Goddess Guidance Oracle Cards

by Doreen Virtue, Ph.D.


Quoted from the pack: "The goddesses are angelic, powerful, loving beings who want to help you with every part of your life. In this set of oracle cards by Doreen Virtue, you'll learn who the different cross-cultural goddesses are and how they can help you. Each card gives a specific message about how you can improve your life, health, relationships, finances, career, and spiritual path. The gorgeous artwork on each card depicts Kuan Yin, Laksmi, Brigit, Isis and Athena; as well as goddesses Celtic, Mayan, Egyptian, Greek, Tibetan, Buddhist and other traditions.
The accompanying guide book helps you to give accurate readings for yourself, your loved ones, and your clients. Whether you're a beginner or seasoned pro, you'll find that working with the goddesses brings Divine magic into your life."
My personal card for today

: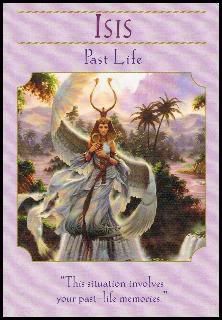 ISIS - Past Life
"This situation involves your past-life memories."
Message from Isis: "Your roots upon the planet are strong and deep, and some of the roots have anchored you in past memories from faraway times. These roots have anchored you so deeply, in fact, that you're paralyzed when it comes to moving forward.
I've called your attention to this condition so that you my unearth and uproot past memories. Sometimes you bury those memories to shield yourself from psychic pain or embarrassment, so you won't remember those awkward moments when life tested you to the maximum. Reveal those lessons to yourself now, strong sorceress, and move forward with the confidence that you have sage wisdom behind you."
Various meanings of this card: Get a past-life regression to gain insights and answers * Ancient fears from the past are surfacing right now * You've known the person you're enquiring about in a past life. * Your current situation relates to a childhood issue.
Today's cards for each of the star signs

:

Due to lack of time, etc. These are the 'quick reading' messages - for the full reading and meaning of the cards you will need to obtain these cards for yourself - or get someone else to buy them for you as a gift!

Here are your messages and insights for today. Try to sit quietly for a few moments, meditate on your card and think about how you can learn from, and act upon, its message...

Aries

: ABUNDANTIA - Prosperity "The universe is pouring its abundance out to you. Be open to receiving."

Various meanings of this card: be open to receiving * A new windfall of money is coming to you * You have nothing to worry about * Your new venture will be financially successful * Visualize and affirm abundance * Abundance comes to you in many ways, including extra time, support and ideas.

Taurus

: AINE - Leap of Faith "Take a risk, and put your heart's true desire into action!"

Various meanings of this card: Your dreams will come true * Your chosen path is the right one for you * Heaven supports you fully on your mission * Your material needs will be taken care of * Take action steps toward the realization of your dream * Break your dream into achievable baby steps so that it's easier to start and keep going.

Gemini

: VESTA - Home "Your household situation is improving, either through a move or healthy change in the occupants."

Various meanings of this card: You're moving to a new home * You've just moved * A new person is moving in * Someone is moving out * There is increased romance and/or harmony in the home * A problem with neighbours is resolved * Clear the space in your home * Remodel * Know that your home is safe and protected.
Cancer

: PELE - Divine Passion "Be honest with yourself: What is your heart's true desire?"

Various meanings of this card: Make sure your career matches your true interests * Take a class or start a hobby that really excites you * Change jobs * Go on a wonderful trip * Invest time and money in manifesting your dreams * Give yourself permission to go for it * Start a new business * Make an honest assessment of how you spend you time * List your priorities.

Leo

: SEKHMET - Be Strong "You are stronger than you think you are, and your strength assures a happy outcome."

Various meanings of this card: Don't underestimate yourself * Don't yield to pressure or temptation * Avoid complaining or indulging in negative thinking * Engage in weight training exercises to make your body stronger.

Virgo

: ATHENA - Inner Wisdom "You know what to do. Trust your inner wisdom, an take appropriate action without delay."

Various meanings of this card: Stop procrastinating * Stop giving away your power to others * Trust your gut * Don't second-guess yourself * You are correct * Notice recurring ideas and take action on them.
Libra

: DIANA - Focused Intention "Keep your unwavering thoughts, feelings and actions focused on your target, and you will make your mark."

Various meanings of this card: Stay positive * Know what your priorities are and take action on them * Take control of your schedule * Avoid nay-sayers and skeptics.

Scorpio

: APHRODITE - Inner Goddess "Awaken the Goddess within you through dance, self-care, and appreciating your divinity."

Various meanings of this card: Balance your male energy with more female energy * Take steps to heal your sexuality * Enjoy being feminine * Dance more often * Be receptive * In relationships, allow your softer side to come forward * Don't hide your femininity (dress in a more feminine way.

Sagittarius

: MAEVE - Cycles and Rhythms "Honour the cycles of your body, energy levels and emotions."

Various meanings of this card: Female gynecological changes (starting of menses or menopause, for example) are an issue for you * Make time to rest * Initiate steps to alleviate depression or lethargy * Take better care of your body * Seek support for dealing with emotional crises * Allow yourself to grieve or take time off * Know that this lull won't last forever * A doorway of opportunity has opened up, and you need to walk through it now.
Capricorn

: OSTARA - Fertility "It is the perfect time for you to start new projects, access new ideas, and give birth to new conditions."

Various meanings of this card: This card signifies pregnancy * You will be involved with a successful child conception, adoption, or custody resolution * Your desire will fully manifest in the springtime * There will be a resurrection of the old * Your new idea or venture will be successful * It's an opportune time to make life changes.

Aquarius

: SIGE - Quiet Time "Take some quiet time alone to rest, meditate and contemplate."

Various meanings of this card: Go on a retreat * Listen more and talk less * Avoid loud noise and sounds * Meditate * Surrender mind chatter to heaven * Know that you're more sensitive to noise now.

Pisces

: WHITE TARA - Sensitivity "You are becoming increasingly sensitive. Avoid harsh relationships, environments, situations, and chemicals."

Various meanings of this card: Acknowledge and honor your sensitivity * Take steps to protect yourself from negativity * Avoid chemicals * Steer clear of situations where there's loud noise, crowds, violent media, and other triggers.