Good morning!

Well, I have to report that I was very disappointed, at my Slimming World weigh-in last night, to find that I had put on half a pound!

Actually, I was gutted :(

However, I have been reliably informed that the weight gain was probably due to water-retention as my body gets used to my new regime of drinking 2 litres of water a day!

I have been assured (by others who have been through the same thing) that it is worth it and to stick with it, as it usually takes about 2 weeks for everything to settle down... then I should start to see the benefits.

So that's what I shall do! I shall continue drinking plenty of water and hopefully, if not next week, the week after I should definitely see a difference on the scales, in the mirror and within myself too!

In the meantime, following my on-going problems with some of my websites and with my Amazon store, I have made a few decisions and have lots of work to do to implement the changes that I have decided upon!

I'm in the process of transferring some of my domains - to sort that particular problem out - and, as Amazon have changed their listing policy to only allow items with barcodes from now on, I am going to try listing some of my gifts in Bonanza. I haven't been on that site for a couple of years, so I thought I'd check it out... I'd be interested to know if any of you have had any success with them?

I'd better get on with the cards and messages for Wednesday - I have lots to do!

(Would you believe it? My card for today is all about having the courage to make changes!)

Whatever your star sign - enjoy your day :)

Brightest Blessings,
Kaz
www.blessingz.co.uk
www.cheekywitch.co.uk



This week I am using the
Cosmic Ordering Oracle Wish Cards

by Stephen Richards & Karen Whitelaw Smith


Quoted from the pack: "This guidance booklet will give you the meaning of the 44 pocket sized Cosmic Ordering Oracle Wish Cards. Use them in many different ways and learn to work with the energy of that card.
Use the cards in your daily life to make a wish and watch it come true."
My personal card for today

: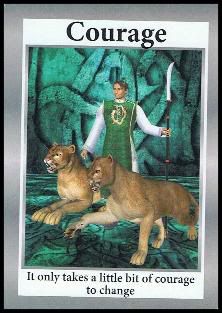 COURAGE
It only takes a little bit of courage to change
Full meaning: We have all know times when it seems there is no way out of the darkness. We re-enter the light by taking the first step out of uncertainty. Connect with Spirit. Ask for the courage to face your fears, to follow your instincts, to say 'no' if need be. Ask the Cosmos for right thoughts and tight action.
Perhaps you need the courage to admit you've been wrong? Or to stand up for who you are? Follow your heart. Be true to yourself and you will be given the courage to overcome your difficulties.
Today's cards for each of the star signs

:

Due to lack of time, etc. These are the 'quick reading' messages - for the full reading and meaning of the cards you will need to obtain these cards for yourself - or get someone else to buy them for you as a gift!

Here are your messages and insights for today. Try to sit quietly for a few moments, meditate on your card and think about how you can learn from, and act upon, its message...

Aries

: DETERMINATION Never, ever give up

Call on Spirit to give you strength, creativity and perseverance. Once you have made a decision to never, ever give up, anything is possible.

Taurus

: BIRTH The start of new beginnings

This card designates a new beginning. Choosing it signifies that today marks a new stage in your journey.

Gemini

: 'ME' TIME Spend time alone in a quiet place

Take time to allow your body to relax and de-stress. Care for your body today. Pamper it. Your spirit will blossom.
Cancer

: HAPPINESS Happiness comes from knowing who you are

Happiness is your birthright. Claim it today. Make the decision to be happy, regardless of circumstance.

Leo

: PLACE YOUR ORDER What do you really desire

Itemise your desires, making your order very specific. Make it official; put it in writing. Announce it to the waiting Universe. Crystallise your order with faith.

Virgo

: BALANCE It's important to have balance in your life

Full meaning: Drawing this card indicates an imbalance in your life.
Libra

: DETOX Wash away your worries

Have you been ignoring signs of overload in your body? Balance your physical body and clear your channel to the Cosmos. Drink more water to purify your system.

Scorpio

: FAMILY Always remember where you come from

Use Cosmic Ordering to heal any rifts in your family. Wherever there is need of healing call on the caring energy of the Universe. Allow its calm and peace to enter your heart.

Sagittarius

: CONTROL YOUR DESTINY Take control of your life

If you do not control your destiny someone else will control it for you. Take charge of your life.
Capricorn

: SELF-BELIEF Believe in yourself to change your life

Focus only on the positive. Make choices today in line with your highest good. Use your gifts, in gratitude, believing they will lead to the right path.

Aquarius

: JOURNAL Journal your thoughts to release your emotions

Journal your experiences, especially the painful ones. The Cosmos gives us lessons so that we can learn from them.

Pisces

: RELATIONSHIPS The best relationship you will have is with yourself.

Use the law of attraction today to manifest your perfect partner or improve an existing relationship. Visit a friend or family member you haven't seen for a while. Show your appreciation of them.