Good morning!

I hope you had a good weekend?

Mine was mixed - frustrations with continuing problems with some of my websites, problems with my Amazon store and problems with my bank account... but also some enjoyable moments, spent with loved ones too - and a really great time on Saturday evening at the Eastbourne Bonfire Society's torchlit procession and firework display!

It was a long proscession, as there were lots of visiting bonfire societies in the parade, with amazing costumes... and the drummers were great!

It was a fantastic atmosphere :)

I have managed to find some footage on YouTube, although quite dark, it will give you a good taster of this wonderful event!


Part two:
Part three:
If you'd like to see some of the firework display please click
here
!
As I said - it was a really great night and I shall definitely be marking this on my calendar for next year!
It's manic Monday, I'm all behind, still have problems to try to sort out, lots of emails to answer and some orders to make, so I had better get started...
Please find your message for Monday below and whatever your star sign - have a good day :)
Brightest Blessings,
Kaz
www.blessingz.co.uk
www.cheekywitch.co.uk
This week I am using the
Cosmic Ordering Oracle Wish Cards


by Stephen Richards & Karen Whitelaw Smith


Quoted from the pack: "This guidance booklet will give you the meaning of the 44 pocket sized Cosmic Ordering Oracle Wish Cards. Use them in many different ways and learn to work with the energy of that card.
Use the cards in your daily life to make a wish and watch it come true."
My personal card for today

: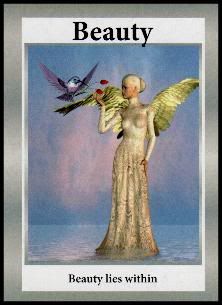 BEAUTY
Beauty lies within
Full meaning: Beauty is all around us, in nature, in golden sunsets, in glistening oceans and the amazing symmetry of flowers. We only have to open out eyes to it. Meditate on the beauty of the planet. Allow its healing power to re-charge your negative emotions and reconnect you to the earth.
You are part of this beautiful Cosmos. Its beauty lies deep within each of us. Are you hiding your spiritual beauty?
Connect with your real Self today. Focus on the highest, purest part of you. Show your beauty. Smile.
Today's cards for each of the star signs

:

Due to lack of time, etc. These are the 'quick reading' messages - for the full reading and meaning of the cards you will need to obtain these cards for yourself - or get someone else to buy them for you as a gift!

Here are your messages and insights for today. Try to sit quietly for a few moments, meditate on your card and think about how you can learn from, and act upon, its message...

Aries

: REFLECTIONS When you decide on what you want then that's what you get

Invoke the help of the Cosmos to change those things about your appearance you don't like.

Taurus

: GRATITUDE To be wealthy you have to be more grateful

Cultivate gratitude for all the gifts you've been given and those you've yet to receive.

Gemini

: TRUTH Be truthful with yourself

Are you truthful with your dealings with others? Do you lie to protect your ego? Redefine your relationship with honesty today and watch your life transform.
Cancer

: RELATIONSHIPS The best relationship you will have is with yourself.

Use the law of attraction today to manifest your perfect partner or improve an existing relationship. Visit a friend or family member you haven't seen for a while. Show your appreciation of them.

Leo

: TRUST When you trust in yourself then others will trust you

Trust that the Cosmic Order you make today will be delivered.

Virgo

: TRAVEL Take a break

Book a mental vacation. Empower your life with regular meditations on beautiful places. Let their healing energy uplift your spirit

Libra

: OCEAN Spend time beside the water or relax in a warm bath

When we sit by the ocean our body relaxes, our spirit opens. Allow life's flotsam to float away and let yourself flow with the tide.

Scorpio

: SPIRITUAL POWER It's time to unleash the power within and set yourself free

Use self-relaxation to discover your Spiritual power, which means connecting to Infinite Energy; with it we can move mountains.

Sagittarius

: DETOX Wash away your worries

Have you been ignoring signs of overload in your body? Balance your physical body and clear your channel to the Cosmos. Drink more water to purify your system.
Capricorn

: 'ME' TIME
Spend time alone in a quiet place

Take time to allow your body to relax and de-stress. Care for your body today. Pamper it. Your spirit will blossom.

Aquarius

: MESSAGES FROM YOUR LOVED ONES
Stop and listen

Our loved ones will always find ways of connecting with us, especially in times of need.

Pisces

: BALANCE
It's important to have balance in your life

Drawing this card indicates an imbalance in your life. Is it in your physical body? Is it an emotional imbalance? Is your imbalance Spiritual?