Good morning!

Well, I had an eventful weekend - didn't go exactly to plan, or quite how I imagined it...

Firstly, the weather gods were not kind to us :(

It was very cloudy and grey and drizzled with rain on and off...

Then there were problems gaining access to the Redoubt Fortress on Saturday morning, as the key-holder arrived later then expected and didn't have all the relevant keys! So there was quite a delay getting in to the venue and setting up for everyone...

Here's a pic of the Cheeky Witch stall all set up and ready to go!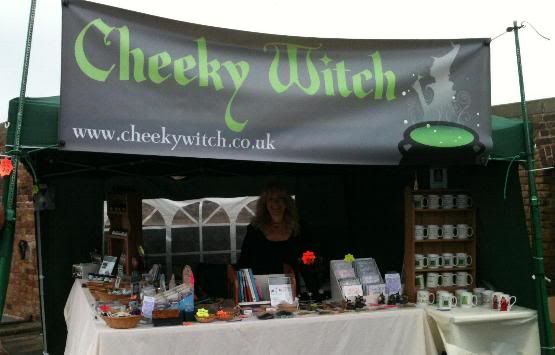 Although the venue itself is really nice, its location is a bit out of the way for passing people - especially on a day when the weather isn't so good - and with a combination of miserable weather, few passers by, and perhaps not enough advertising - unfortunately we didn't have many people through the doors on Saturday
or
Sunday :(
(Other than people who were there to entertain, or support the entertainers, and their families.)
I did feel very sorry for the organisers, as not a lot went right for them. However, the muscians, drummers and other entertainers were great!
Although it wasn't a successful day 'financially', I really did enjoy myself :)
I met some truly wonderful people, had some very interesting conversations, made some magical connections and received lots of 'signs' and messages from Spirit... (and my personal card for today, and the one for Cancer, both back up those messages!)
So I am very glad that I was there :)
It's Manic Monday and I have a LOT of emails, orders and inquiries to go through - and
Bags of Blessings
to make - so I think that calls for another mug of coffee first!
I'm using the 'Just for Today' version of the
Medicine Cards
this week!
Let's see what messages the animal guides have for us all today!
Whatever your star sign - have a great day :)
Brightest Blessings,
Kaz
www.blessingz.co.uk
www.cheekywitch.co.uk
This week I am using the
'JUST FOR TODAY' CARDS



by Jamie Sams and David Carson


This deck is the daily, quick message version of the
Medicine Cards
deck by Jamie Sams and David Carson.
I have tried finding a link to The 'Just for Today' cards and can't find any, other than some listed on amazon for an incredibly expensive price! (I don't understand how they can be so expensive, as my set was very reasonable, although I have had them for quite a few years...)
The Medicine Cards are wonderful and come in a boxed set with a book of layouts, instructions and the full meanings for each of the animal guides. I have the Medicine cards too, but it is easier for me to give you the 'Just for Today' messages!
My personal card for today

:
Grouse - Find your rhythm.
Honor the synchronicity. Spiral into your potential.
Today's cards for each of the star signs

:

These are your messages from the animal guides for today! Try to sit quietly for a few moments, meditate on your card and think about how you can learn from and/or act upon its message...

Aries

: Whale - Acknowledge your mission.

Trust your path. Become your chosen destiny.

Taurus

: Turkey - Let go and give away the past.

Share your gifts with generosity. Feel the freedom gained.

Gemini

: Otter - Laugh at your antics.

Balance work and play. Reclaim vulnerability.
Cancer

:

Raven - Open yourself to miracles.

Use new eyes. Believe in magic. Embrace life's wonders.

Leo

: Spider - Dance your dreams alive.

Create from your hearts bliss. Weave the web you want to live.

Virgo

: Antelope - Time to respond.

Take Action. No procrastinating. Decide and do it NOW.
Libra

: Elk - Persistence brings rewards.

Support you health and stamina. Honor your ability to endure.

Scorpio

: Frog - Bring in the rain.

Tears cleanse your feelings. Refill with well-being.

Sagittarius

: Bat - Be flexible.

Prepare for rebirth. The time is NOW. The power is YOU.

Capricorn

: Dog - Be loyal to yourself.

Be true to others. Bolster your integrity.

Aquarius

: Squirrel - Use time and energy properly.

Waste nothing on negativity. Gather the rewards of stewardship.

Pisces

: Opossum - Have a plan.

Use common sense. Honor the strategy that works best for you.