Good morning!

Six months ago today, I was feeling very sorry for myself. I was poorly (run down, with a bad cold and croaky voice), miserable and lonely - and I broke one of my New Year Resolutions... I joined a dating site!

I had been determined not to go down that route again, but had seen a few tv adverts for a new free dating site - www.oasis.com - and decided to check it out...

You have to put in a few basic details, to gain access to the profiles on the site - but I made sure to immediately set my own profile and details to 'hidden', thinking I could have a quick look around the site without being seen, before deciding whether or not to put up a full profile.

I clicked in the search box and did a search for men in the Eastbourne area - clicked on the first profile at the top of the page and started reading...

My first thought was "Ooh! He's a Scorpio!" and then moments later, a little chat box opened up and there he was, asking to chat!

I was thrown completely because I thought I had made myself 'invisible' - not knowing that if you're looking at someone's profile, and they are on line, they get a notification that you're looking at them!

Anyway, Richard and I started chatting... and chatting...

The next day we chatted and chatted online again - for hours!

The next 2 days were spent on the phone - talking nonstop - and we agreed to meet the following day...

We've seen each other every single day since then!

These six months have flown by and my life has changed so much! I'm the happiest I have been since... I can't remember when!

Many years ago, I did a visualisaton/manifestation 'spell' (or Cosmic Order) to attract my true love. I made a list of all the things I was looking for in my ideal man... It was a long list! I've had a couple of relationships in the years that followed - but they were not at all what I'd ordered!

Over the years I forgot about the list and almost resigned myself to never finding 'the one' - and then along came Richard :)

He wasn't what I was expecting - not my 'type' at all - but when conjuring up my ideal man I hadn't actually visualised what he would look like - that wasn't really important. It was all about his qualities, the things I had hoped we'd have in common, shared interests, hopes and dreams... and with Richard, every box has been ticked!

I know it's only been 6 months - but it feels as though we've know each other forever. I feel so blessed! So lucky :)

So, if you're single, never give up hope of meeting your soul mate - put out your Cosmic Order and be patient... The Universe works in mysterious ways :)

Whatever your star sign - have a wonderful day!

Brightest Blessings,
Kaz
www.blessingz.co.uk
www.cheekywitch.co.uk



This week I am using the
Messages from Your Angels Oracle Cards


by Doreen Virtue, Ph.D.


Quoted from the pack: "This card deck makes it easier than ever to give an amazingly accurate angel reading for yourself or others. Each card features a gorgeous angel painting, along with a one or two sentence message.
These cards will help you and others know what your exact life purpose it, whether ot not someone is your soulmate or not, what to do about your job and living situatuations, and other inportant life questions. Doreen based the cards upon her actual angel readings, using most commonly asked questions and angelic answers to create the ultimate deck for both the beginner and advanced card reader."
My personal card for today

: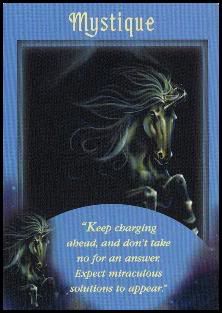 MYSTIQUE
"Keep charging ahead, and don't take no for an answer. Expect miraculous solutions to appear."
Additional message: "You are on the right path! Although it might seem to take a lot of time and effort, keep up the good work. You are definitely making progress toward your intended outcome. Sometimes flexibility is called for when you are working toward an aim.. But in this instance, you need to stay form in your conviction. Compromise will only water down the Divine plan that you're manifesting.
Resist the urge to bend, or please others. In the end, these individuals will be pleased by the outcome. You're following a Divine course, and others may not be privy to the same vision that you're following. Do your best to explain this vision to the others involved, but don't feel the need to defend your actions. Look at my picture. I am coming out of the darkness and into the light. So are you. You know what you're doing, and we in Heaven are here to back you up fully!"
Today's cards for each of the star signs

:

Due to lack of time, etc. These are the 'quick reading' messages - for the full reading and meaning of the cards you will need to obtain these cards for yourself - or get someone else to buy them for you as a gift!

Here are your messages and insights for today. Try to sit quietly for a few moments, meditate on your card and think about how you can learn from, and act upon, its message...

Aries

: OCEANA

Quick message:"Take action. You're in touch with your truth in this situation, and you need to trust your gut and lovingly assert yourself."

Taurus

: ROSETTA

"You have a gift for working with young people, and your Divine purpose involves helping, teaching or parenting children."

Gemini

: ARIELLE

Quick message: "New psychic and spiritual experiences are changing the way you view the world and yourself. Allow your spiritual gifts to open - through study, prayer, and meditation."

Cancer

: DESIRÉE

"No, conditions are not favourable right now. Wait, or look into other options; and ask the angels to help, guide and comfort you."

Leo

: AURORA

Additional message: "You are flying high right now, which may threaten others. But don't descend, because others will soon become inspired by your example."

Virgo

: RAYE

Quick message: "Yoga and exercise are essential to your well-being, peace of mind, and spiritual growth right now."
Libra

: FRANCESCA

Quick message: "What do you desire right now? Visualize it, and it will come about. Negativity will block your progress."

Scorpio

: INDRIEL

"You are a lightworker. God needs you to shine your Divine light and love - like an angel - upon the earth and all of its inhabitants.

Sagittarius

: CELESTE

Quick message: "A happy move to a new home or place of employment is in the works. This movement will usher in positive new energy."
Capricorn

: SEREPHINA

Quick message: "I am the Angel of Families. a happy change or addition is coming to your family."

Aquarius

: CRYSTAL

Quick message: "Have faith and hope, because there is something positive and new on the horizon that you can't yet see."

Pisces

: ISABELLA

Quick message:"Yes, the timing is right for this new venture. a happy outcome follows your positive expectations."