Good morning!

"Always look on the bright side of life."

Can't seem to get that song out of my head this morning :)

What a brilliant closing ceremony to a fantastic Olympic Games - I did enjoy watching that last night - dancing around the living room to some great British music, wish I could have been there - what amazing memories all those people will have!

However, after another late night and lack of sleep, it's back down to earth with a bump this morning... I think a lot of people will have that 'Monday morning' feeling today.

It's the usual Manic Monday for me, so I had better start to tackle all the emails and queries in my inbox and then I can start making some orders!

Time for a change of cards - it's the Magical Mermaids and Dolphins Oracle Cards this week!

I love my personal cards for today. (I got two!) I hope you card's message is full of hope, promise and inspiration too!

Whatever your star sign - have a great day :)

Brightest Blessings,
Kaz
www.blessingz.co.uk
www.cheekywitch.co.uk



This week I am using the beautiful
Magical Mermaids and Dolphins Oracle Cards


by Doreen Virtue, Ph.D.


Quoted from the pack: "The Magical Mermaids and Dolphins Oracle Cards are specifically designed to help you manifest your goals, life purpose, and Divinely inspired dreams. These 44 beautifully illustrated cards can help you swim into the ocean of your unconscious mind, where profound thoughts and feelings can create - or block - your heart's desire. The cards are easy to use, and the enclosed guidebook will help you perform amazingly accurate readings for yourself and others."
My personal card for today

: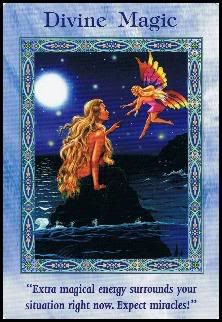 DIVINE MAGIC
Extra magical energy surrounds your situation right now. Expect miracles!
Divinatory meaning: This card signifies that the next oracle card you pull out of the deck is surrounded by Divine magical energy. The Divine Magic card urges you to pay very special attention to this card, and do your best to follow its message.
The divine magic card indicates that a spiritual gateway has opened for you. At such times, your ability to manifest is heightened. Use this time to focus upon your desires. If you're unsure what you truly want, ask for Divine guidance through prayer, meditation, or ritual.
So the card that I pulled from the deck next was: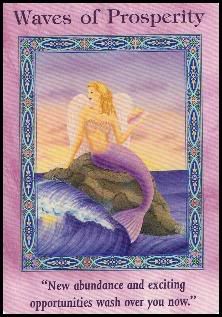 WAVES OF PROSPERITY
New abundance and exciting opportunities wash over you now.
Divinatory meaning: New waves of abundance are sweeping over you right now. Observe any ideas that enter your mind at this time, as they may be seeds of a profitable new venture. Also notice any out-of-the-blue phone calls or 'chance meetings' with people who could help you.
This card also means that you're on a success streak. This is an excellent time time to begin new ventures (of course, follow your inner guidance and do appropriate research). You'll see that doors open easily for you, and that you're filled with extra confidence and enthusiasm. Practice being a grateful recipient of good. Know that there's an ocean of abundance, with no danger that it will dry up.
Today's cards for each of the star signs

:

Due to lack of time, etc. These are the 'quick reading' messages - for the whole message and meaning of the cards you will need to obtain these pretty cards for yourself - or get someone else to buy them for you as a gift!

Here are your messages and insights for today. Try to sit quietly for a few moments, meditate on your card and think about how you can learn from, and act upon, its message...

Aries

: MAKE A DECISION

Feeling stuck or indecisive? Listen to your intuition and make a decision!

Taurus

: ALCHEMY

You have the Midas touch right now, and every project you begin turns to gold.

Gemini

: WORTHINESS

Know that you deserve to receive in good ways.
Cancer

: CONTEMPLATION TIME

Spend time alone, meditating upon what you truly desire.

Leo

: A NEW DAWN

The worst is now behind you, and positive new experiences are on the horizon.

Virgo

: FATHER HEALING

Your personal power increases as you give any father-related issues to Heaven.
Libra

: BREAK FREE

Try different ventures and experiences as a way to grow and learn.

Scorpio

: ACCEPT HEAVEN'S HELP

You've prayed for help, so get out of the way and let Heaven help you.

Sagittarius

: WATCH YOUR THOUGHTS

It's important to only think about what you desire, not what you fear.

Capricorn

: HAVE FAITH

Your prayers are manifesting. Remain positive, and follow your guidance!

Aquarius

: EXPLORE YOUR OPTIONS

It's time to look at other possibilities. It's a good time to make changes.

Pisces

: READY, SET, GO!

Now is the perfect moment to dive in and embrace your heart's desire.