Good morning!

I have slightly sore feet from dancing last night, but I'm not complaining, Richard and I had a great time as usual... despite having real trouble remembering some of the steps! However, we are really getting the hang of the jive and love it! Can't wait for next week's dance class :)

We have a busy weekend ahead - lots of changes are coming up now - lots of new beginnings and positive changes!

After living with me since last november, Tom and Sophie are moving out - into a nice 2 bedroomed flat, near Eastbourne town centre - on Sunday.

I am very happy for them, but I shall miss them like crazy! Maisie will miss them too, it will be a lot quieter around here...

However, there is only a week to go until my birthday party/barbecue and lots still to do in the garden and the house will need re-organising after the kids have moved out... In preparation for Richard to move in, hopefully some time during the next couple of weeks :)

And Lammas is only 3 weeks away! EEEK!

I have just had a delivery of stock for the Lammas Festival weekend - including some gorgeous Tarot decks - all of which I would love to add to my own personal collection! I may treat myself, after the festival, if any of them don't sell... and there are a couple in particular which I kinda hope don't sell :)

I hope yo have enjoyed the cards and messages this week? What do you think of the Atlantis Cards?

Here is a slideshow of some of the beautiful cards in this deck:



Next week I will be using the
Magical Unicorns Oracle Cards
by Doreen Virtue, Ph.D.
Now I must get on with my orders!
Whatever your star sign - have a wonderful weekend :)
Brightest Blessings,
Kaz
www.blessingz.co.uk
www.cheekywitch.co.uk
This week I am using the
Atlantis Cards
by Diana Cooper
Quoted from the pack: "The myth of the magical world of Atlantis has fascinated people for centuries: the spiritually highly evolved inhabitants of the Golden Atlantis revered and honoured every aspect of the natural world, recognising that everyone and everything is a part of the Source. From this respectful position they lead lives full of grace, compassion and love for each other.
Diana Cooper has magnificently captured and put to use the positive vibrations of the Atlantean time in this new card set richly illustrated by Damian Keenan. They can provide insights and inspiration for our life path, highlighting our strengths and helping us to work with our weaknesses in the best possible way."

My personal card for today

: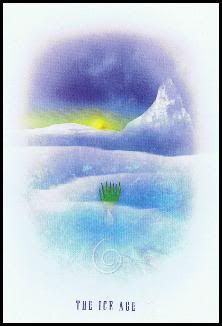 THE ICE AGE
A two-thousand-year ice age allowed the Earth to detoxify, rest and purify, so that the planet could vibrate at a higher frequency. During the ice age, the Intergalactic Council was able to plan the fifth and final experiment of Atlantis, heralding the Golden Age - the most glorious and spiritual time there has ever been on this planet.
Preparation time. If you chose this card, it indicates that a time of rest and relaxation is needed. Use this space to look within and purify your beliefs and thoughts. This is a time to contemplate or meditate on your life-purpose and prepare yourself so that the new can come into your life at a higher frequency than the old.
The seeds of new beginnings are germinating.
Today's cards for each of the star signs

:

Due to lack of time, etc. These are the 'quick reading' messages - for the full reading and meaning of the cards you will need to obtain these cards for yourself - or get someone else to buy them for you as a gift!

Here are your messages and insights for today. Try to sit quietly for a few moments, meditate on your card and think about how you can learn from, and act upon, its message...

Aries

: CO-OPERATION

Quick message: Togetherness. What can you share today? It may be your friendship, your time or something more tangible. Receiving this card guides you to give away anything you no longer need. It also suggests that you co-operate with others for the greater good. Be generous-hearted and your rewards from the Universe will be great.

Co-operate in a vision greater than yourself.

Taurus

: BIRTH CRYSTALS

Quick message: Roots. If you draw this card you are guided to strengthen your connection with 'home', which may mean meditating on your stellar origins. Alternatively, it may suggest that you explore your background and ancestral heritage. You may even need to put down more roots to enhance your feeling of belonging.

Deepen your roots to create a solid foundation.

Gemini

: TWELVE CHAKRAS

Quick message: Potential. You are reminded that you have enormous, untapped, spiritual and psychic powers. By relaxing deeply you can start to activate your cellular knowledge and bring back the wisdom you held in Atlantis. Your guidance is to access this potential. Find time and space to become quiet and still so that you can remember who you truly are.

Relax and tune into your potential.
Cancer

: SOUND AND MUSIC

Quick message: Harmony. This is the card of harmony. Your guidance is to make sure that everything in your life is in balance and accord. It is a reminder that beautiful music and chanting can change your mood and lift your spirits.

Keep everything in harmony.

Leo

: MARRIAGE

(2 days in a row!)

Quick message: Commitment. Your guidance is to commit yourself to something - a project, you home, family, work or relationship. Commitment is a powerful contract that will focus your energy to enable your intent to flourish.

Make a commitment.

Virgo

: THE GREAT CRYSTAL

Quick message: Direct your power. This card suggests that you look at the source of your inner power. Every thought, word and action radiates an energy that affects others and draws situations and people to you. Make sure your aims are for the highest good.

Use your power for the highest good.

Libra

: BALANCE

Quick message: Keep your life in balance. Your guidance is to find equilibrium in every area of your life. Make sure you give and receive equally and keep your work and play in balance.

Balance every area of your life.

Scorpio

: HEALING

Quick message: Be a healer. This card reminds you that there are people who need your help, so it is time to develop, hone, or practise your healing abilities. It also suggests that you may need a boost of spiritual, Reiki or emotional healing to raise your light levels.

Reach out to others today.

Sagittarius

: DOLPHIN

Quick message: Wisdom and joy. This card suggests that you live lightly and wisely, bringing joy, fun and laughter into your life. You are also guided to develop your healing abilities, serving your fellow humans and the planet.

Serve with wisdom and joy.
Capricorn

: ENLIGHTENMENT

Quick message: Being. Your guidance is to stop doing and striving. Forget about tomorrow. Just still your mind, and be in the now. In this quiet time, contemplate the wonders of life and appreciate all that you do have, including the opportunity for life on earth.

Enlightenment is being in Oneness.

Aquarius

: MATERIALISATION

Quick message: Manifest your vision. If you choose this card, your guidance is to become totally clear about what you want in your life. Be sure that you really want it! When you have clarity, focus on your vision without doubt or deviation and it must manifest.

Focus on your vision and make it happen.

Pisces

: GRATITUDE

Quick message: Abundance. Gratitude is the purest form of prayer and is a key to abundance. Your guidance is to count your blessings and give thanks for that which you wish to receive as if you already have it.

Show thanks by the way you live your life.