Good morning!

I am getting very excited about the Eastbourne Lammas Festival!

(Only 9 days to go!)

All we need is a bit of sunshine... I am convinced that summer has been saving itself for us and it will be a glorious weekend for the 28th and 29th of July!

I have been ordering in some wonderful stock items - all of which I'd like for myself! (I love getting stock parcels delivered - I'm like a kid at Christmas!)

My Dad has been making some gorgeous sticks and staffs to sell at Lammas over the past few months - and had to finish them this week, as he went into hospital for an operation yesterday and may be out of action for a few weeks.

Here are some piccies :)

Assorted staffs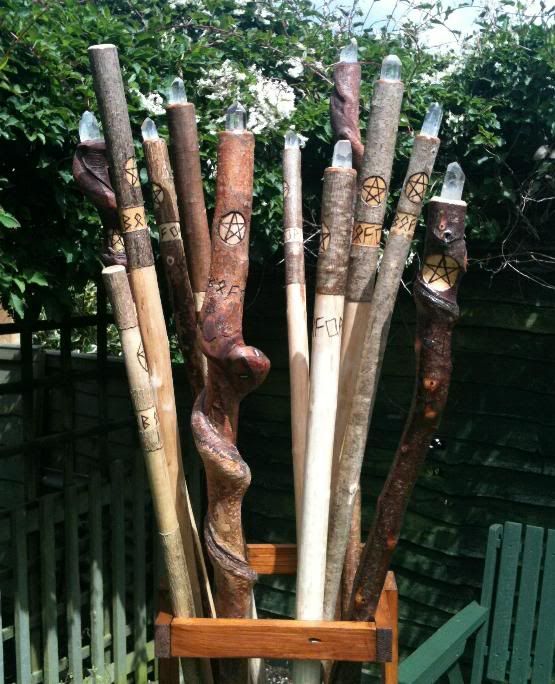 Walking sticks and thumbsticks.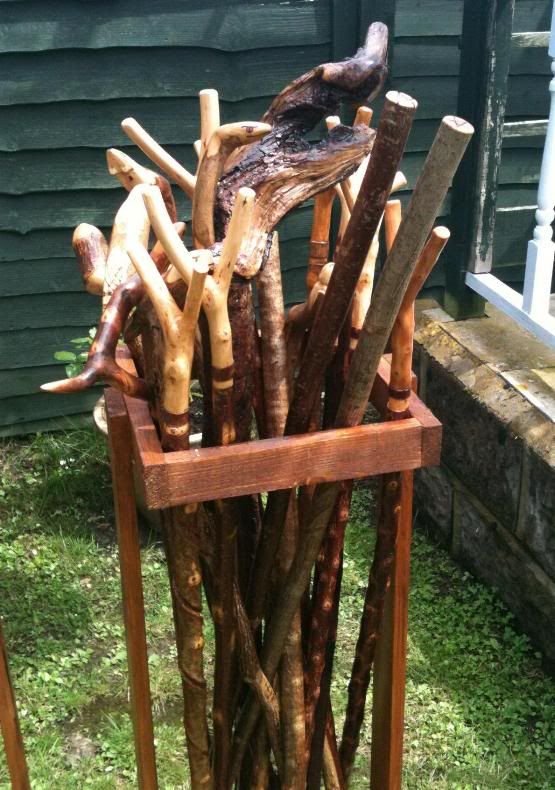 Stunning snake staff!
Pentacle staff!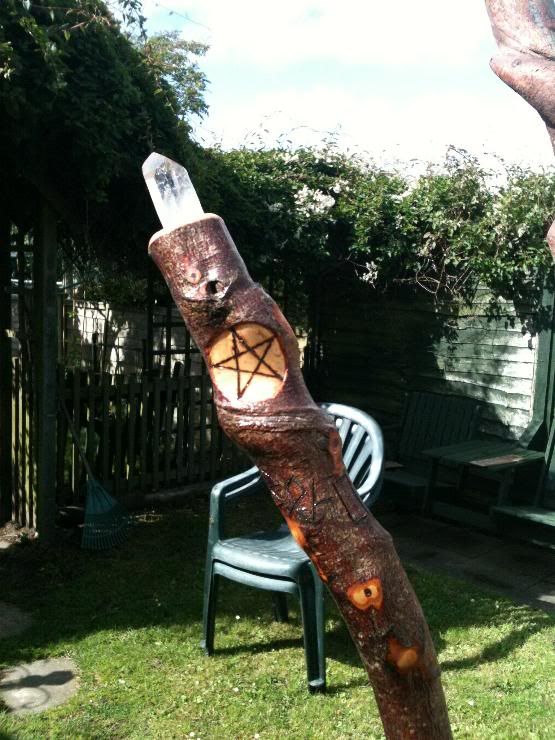 Aren't they wonderful?!
I have so much to do in preparation for this 2 day event - but I love it! It's my favourite event of the year :)
However, I had better get on with my normal work day... Orders to make, websites and listings to update!
My message and advice from my personal card for today
is
appropriate - but will be almost impossible to act upon...
No time for quiet time ;)
I hope your card is relevant for you, and whatever your star sign - enjoy your day :)
Brightest Blessings,
Kaz
www.blessingz.co.uk
www.cheekywitch.co.uk

This week I am using the
Goddess Guidance Oracle Cards

by Doreen Virtue, Ph.D.
Quoted from the pack: "The goddesses are angelic, powerful, loving beings who want to help you with every part of your life. In this set of oracle cards by Doreen Virtue, you'll learn who the different cross-cultural goddesses are and how they can help you. Each card gives a specific message about how you can improve your life, health, relationships, finances, career, and spiritual path. The gorgeous artwork on each card depicts Kuan Yin, Laksmi, Brigit, Isis and Athena; as well as goddesses Celtic, Mayan, Egyptian, Greek, Tibetan, Buddhist and other traditions.
The accompanying guide book helps you to give accurate readings for yourself, your loved ones, and your clients. Whether you're a beginner or seasoned pro, you'll find that working with the goddesses brings Divine magic into your life."
My personal card for today

: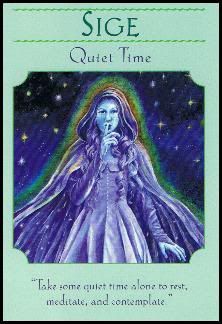 SIGE - Quiet Time
"Take some quiet time alone to rest, meditate and contemplate."
Message from Sige: "Shhh, dearest one. Quiet your mind. Breathe and let go of words, worry, and plans. Go into that space of silence deep within you, that vortex of peace where the world doesn't enter. Now is the time to retreat in silence and spend time alone, I'll lovingly help you rejuvenate and recenter yourself. Don't try to make any decisions now. Just allow your mind to be at rest. You'll know soon enough when it's time to take action. But for now, quiet your mind. Rest."
Various meanings of this card: Go on a retreat * Listen more and talk less * Avoid loud noise and sounds * Meditate * Surrender mind chatter to heaven * Know that you're more sensitive to noise now.
Today's cards for each of the star signs

:

Due to lack of time, etc. These are the 'quick reading' messages - for the full reading and meaning of the cards you will need to obtain these cards for yourself - or get someone else to buy them for you as a gift!

Here are your messages and insights for today. Try to sit quietly for a few moments, meditate on your card and think about how you can learn from, and act upon, its message...

Aries

: IXCHEL - Medicine Woman

"You are a channel for Divine healing power."

Various meanings of this card: You're a healer * You're being healed * This situation and/or your loved one is being healed * Honor your healing knowledge and abilities * Learn about healing * Teach the healing arts * Start or continue your healing practice.

Taurus

: SEKHMET - Be Strong

"You are stronger than you think you are, and your strength assures a happy outcome."

Various meanings of this card: Don't underestimate yourself * Don't yield to pressure or temptation * Avoid complaining or indulging in negative thinking * Engage in weight training exercises to make your body stronger.

Gemini

: MARY MAGDALENE - Unconditional Love

"Love yourself, others and every situation - no matter what the outward appearances may be."

Various meanings of this card: Don't worry what others think or say * Heal this situation with love * Send love to those who have hurt or misjudged you * Forgive yourself for what you think you've done or not done * Release old unforgiveness toward others to help yourself heal and move on.

Cancer

: AERACURA - Blossoming

"You are just getting started, so have patience with yourself and the process, and do not give up."

Various meanings of this card: Slow down * Have patience * Get involved with gardening * Use aromatherapy and/or flower essences * Keep the faith.

Leo

: ISIS - Past Life

(2 days in a row!)

"This situation involves your past-life memories."

Various meanings of this card: Get a past-life regression to gain insights and answers * Ancient fears from the past are surfacing right now * You've known the person you're enquiring about in a past life. * Your current situation relates to a childhood issue.

Virgo

: COVENTINA - Purification

"It is time for a cleansing detoxification of your body and mind."

Various meanings of this card: Follow your intuition's guidance about making lifestyle changes * Stop abusing alcohol or drugs * Avoid processed foods such as sugar, white flour, and so on * Eat more organic foods * Keep your thoughts and speech positive * Adopt a vegetarian or vegan diet * (This card can also be a validation that your current healthful path is working.)
Libra

: AINE - Leap of Faith

"Take a risk, and put your heart's true desire into action!"

Various meanings of this card: Your dreams will come true * Your chosen path is the right one for you * Heaven supports you fully on your mission * Your material needs will be taken care of * Take action steps toward the realization of your dream * Break your dream into achievable baby steps so that it's easier to start and keep going.

Scorpio

: KUAN YIN - Compassion

"Release judgements about yourself and others, and focus on the love and light that is within everyone."

Various meanings of this card: Release guilt and shame to Heaven for healing and transmutation * Keep your thoughts about yourself and others positive * Avoid gossip or bad-mouthing of yourself or others * Forgive yourself or another * Don't be so hard on yourself or others * Release perfectionistic tendencies.

Sagittarius

: ISOLT - Undying Love

"The love you have shared is eternal, regardless of the situation."

Various meanings of this card: Love from your romantic partner is eternal, regardless of outward appearances * You're healing from a break-up * You're healing from some other type of loss * Let go of an old relationship to make room for a new one * The love that you send into the world is an important part of your Divine purpose * Your deceased loved one is happy and sends you love.
Capricorn

: HATHOR - Receptivity

"Allow yourself to receive. This will increase your intuition, energy, and ability to give to others."

Various meanings of this card: Be still and listen * Release guilt about receiving * Ask for help * Increase psychic awareness * Know that you're in a learning cycle * Healing is occurring * Be more in your feminine energy * Child conception, pregnancy, or birth, including adoption or favourable custody arrangements, are issues in your life.

Aquarius

: YEMANYA - Golden Opportunity

"Important doors are opening for you right now. Walk through them."

Various meanings for this card: Don't hesitate * This is the right thing to do * Your prayers are being answered * Get ready for a big and happy change * Celebrate your success * Know that you're qualified and ready for this new opportunity.

Pisces

: BRIGIT - Don't back down

"Stand up for what you believe is right."

Various meanings of this card: Be assertive * Don't worry about what others think * Trust that your actions will work out fine * Speak your truth * Stick to your opinions * Put your foot down.