Good morning!

I'm back!

We've had a lovely 4 day bank holiday weekend, here in the UK, for the Queen's Diamond Jubilee.

Unfortunately the weather hasn't been great, but it didn't seem to stop the celebrations in most places :)

Personally we didn't go to any street parties or anything, but we took the opportunity to chillout and relax a bit. We went to the cinema twice. Took Maisie out for some nice country walks, ate and drank some 'naughty' food and alcohol... and enjoyed watching some of the Royal events on the TV.

The Diamond Jubilee Concert outside Buckingham Palace was excellent!

Great start with Robbie Williams:



This next clip was one of my favourite bits! Who'd have thought Madness would ever sing on top of the Palace! The special effects projected on to the palace were amazing during 'Our House' and 'It must be love' is one of my all time favourite songs!
It must have been amazing to have been there, soaking up the atmosphere and giving the people that were able to attend such wonderful memories to share with friends and family for generations to come...
Back to earth with a bump today though, as I have lots of emails and orders to go through and lots of catching up to do - so I had better get a move on - and then I'm off to the Theatre tonight with my daughter Lucy, to see 'Chicago' :)
Busy, busy, busy!
(As this is a 'short week', I am continuing with the same cards as before -
The Wicca Pack
.)
Whatever your star sign - have a good day :)
Brightest Blessings,
Kaz
www.blessingz.co.uk
www.cheekywitch.co.uk
This week I am using
by Sally Morningstar
Quoted from the pack: "The Wicca Pack, weaving magic into your life. Contains the Wicca Book and set of Divinatory cards. Wiccan Magic. learn the basics of working with high magic, the importance of sacred spaces, the timing of high days and holy days, and the correct use of magical crafts. Connect with the archetypes of the ancient Pagan deities, and use the beautifully illustrated cards to develop your latent intuitive skills and explore the world of natural magic through inner spiritual work."
My personal card for today

: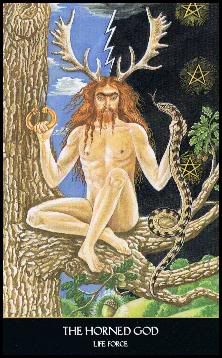 THE HORNED GOD - Life Force
High Note: Fun and celebration are indicated.
Low Note: Be honorable. Find what makes you truly happy.
Vibration: Base Chakra
Keywords: Enchantment, illusion, fantasy.
Meaning: If the Horned God appears, your desires may be out of balance. You may be feeling the need to seek more genuine joy and deeper connectedness in your life, by freeing emotions and inhibitions.
However, life is not always about "having a good time" - be responsible and committed too. The Horned God reminds us that we need to give thanks for what we receive, to celebrate our life.
If you are stressed or unwell, the Horned God indicates that you may need this time to "be natural," to be yourself. If it seems that your life is not your own, take steps to integrate yourself with those who support and affirm who you would like to be. Let go.
Today's cards for each of the star signs

:

Due to lack of time, etc. These are the 'quick reading' messages - for the full reading and meaning of the cards you will need to obtain these cards for yourself - or get someone else to buy them for you as a gift!

Here are your messages and insights for today. Try to sit quietly for a few moments, meditate on your card and think about how you can learn from, and act upon, its message...

Aries

: SPIRAL - Attraction

High Note: Change is coming.

Low Note: Release, let go, prepare.

Vibration: Formative ethers

Keywords: Attraction, release, movement.

Taurus

: SERPENT - Power

High Note: Life force energy is now increasing. Be wise.

Low Note: Inhibitions are highlighted.

Vibration: Ray of Creation

Keywords: Sexuality, Wisdom.

Gemini

: CANDLE - Illumination

High Note: Your inner light guides your way.

Low Note: Energy management is required.

Vibration: Throat Chakra.

Keywords: Illumination, sacrifice, inner radiance.
Cancer

: CAULDRON - The Womb

High Note: Seeds of creation are being sown.

Low Note: What you put in is what you get out. Challenge hidden fears.

Vibration: Sacral Chakra.

Keywords: The void, potential, wise intention.

Leo

: THE MOON - Timing

High Note: Heavenly light illuminates a hidden treasure.

Low Note: Don't be deceived. Learn to stand in your power.

Vibration: Sacral Chakra.

Keywords: Timing, revelation, knowing.

Virgo

: THE FAMILIAR - Ally

High note: Love is your greatest ally.

Low note: Be a good friend, guard your tongue.

Vibration: Astral

Keywords: Ally, support, friendships.
Libra

: SPELL - Enchantment

High Note: A wish shall be granted.

Low Note: Illusions and fantasies are being uncovered.

Vibration: Astral

Keywords: Enchantment, illusion, fantasy.

Scorpio

: THE SILVER BOUGH - Love

High Note: The heart is open to love and harmony.

Low Note: Hold desires and wants in check.

Vibration: The Heart

Keywords: Love, happiness, health.

Sagittarius

: THE QUEEN OF ELPHAME - Magic and Beauty

High Note: Magic is touching you.

Low Note: Seek your beauty. Believe in your magical self.

Vibration: The Underworld

Keywords: Potential, magic, beauty.
Capricorn

: RAVEN - Keeper of Secrets

High Note: Occult gifts are being activated.

Low Note: Shadows on the soul require attention.

Vibration: Soul.

Keywords: Occult knowledge, magic, mastery.

Aquarius

: ARADIA - Heritage

High Note: Now is the time to claim your birthright - success awaits.

Low Note: Review personal opinions and belief systems. Habits and prejudices will be challenged.

Vibration: Crown Chakra

Keywords: Birthright, heritage, celestial guidance.

Pisces

: BELL - Awakening

High Note: Celebrate a change in circumstances.

Low Note: Wake up! It is time to listen and learn.

Vibration: Throat Chakra.

Keywords: Awakening, summoning.