Greetings!

Wishing you all many wonderful Samhain Blessings!


I found the beautiful image above online. Unfortunately I cannot find any details of the artist, but I had to share it with you :)
Just flying in quickly with the cards and messages, and to say "Happy Halloween!"
Whatever your star sign - I hope you have a truly magical day :)
Brightest Blessings,
Kaz
www.blessingz.co.uk
www.cheekywitch.co.uk

This week I am using the
Atlantis Cards

by Diana Cooper


Quoted from the pack: "The myth of the magical world of Atlantis has fascinated people for centuries: the spiritually highly evolved inhabitants of the Golden Atlantis revered and honoured every aspect of the natural world, recognising that everyone and everything is a part of the Source. From this respectful position they lead lives full of grace, compassion and love for each other.
Diana Cooper has magnificently captured and put to use the positive vibrations of the Atlantean time in this new card set richly illustrated by Damian Keenan. They can provide insights and inspiration for our life path, highlighting our strengths and helping us to work with our weaknesses in the best possible way."
My personal card for today

: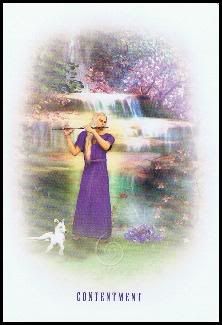 CONTENTMENT
In Golden Atlantis, everyone was honoured. They were happy to be themselves, so they all enjoyed a great sense of deep peace and well-being.
Every individual was encouraged to develop his or her gifts and talents, and use them to do what they loved most. This produced a feeling of true contentment.
Because their offerings to the community were selfless, they also experienced the satisfaction of working for a vision beyond the self.
Satisfaction
This card suggests that it is time to experience a well-deserved feeling of satisfaction. Accept yourself as you are and acknowledge all your good qualities and gifts. Then breathe in quiet contentment. This will enhance your feelings of well-being and attract more harmonious situations to you.
Be content as you are.
Today's cards for each of the star signs

:

Due to lack of time, etc. These are the 'quick reading' messages - for the full reading and meaning of the cards you will need to obtain these cards for yourself - or get someone else to buy them for you as a gift!

Here are your messages and insights for today. Try to sit quietly for a few moments, meditate on your card and think about how you can learn from, and act upon, its message...

Aries

: CO-OPERATION

Quick message: Togetherness. What can you share today? It may be your friendship, your time or something more tangible. Receiving this card guides you to give away anything you no longer need. It also suggests that you co-operate with others for the greater good. Be generous-hearted and your rewards from the Universe will be great.

Co-operate in a vision greater than yourself.

Taurus

: RECORDING CRYSTALS

Quick messages: Check the records. If you draw this card you are expected to open your mind to the new. Unexpected information may be revealed which will help you to comprehend the jigsaw of your life. If a recording crystal comes to you, relax and put it to your third eye, so that you can absorb the scared wisdom it holds.

Open your mind to new information.

Gemini

: THE SILENCE

Quick message: Quiet contemplation. Receiving this card indicates that you are called on to spend some time in contemplation or meditation. Remember that you can more readily access your inner wisdom where it is silent.

Be still and access your inner wisdom.
Cancer

: ENLIGHTENMENT

Quick message: Being. Your guidance is to stop doing and striving. Forget about tomorrow. Just still your mind, and be in the now. In this quiet time, contemplate the wonders of life and appreciate all that you do have, including the opportunity for life on earth.

Enlightenment is being in Oneness.

Leo

: THE GREAT CRYSTAL

Quick message: Direct your power. This card suggests that you look at the source of your inner power. Every thought, word and action radiates an energy that affects others and draws situations and people to you. Make sure your aims are for the highest good.

Use your power for the highest good.

Virgo

: NOURISHMENT

Quick message: Your food. Your guidance is to watch what you eat for your physical body must be pure to enable you to carry more light for your pathway ahead. Simple, fresh, locally grown produce is the most effective in enhancing your cosmic energy.

Prepare your body for the work ahead.
Libra

: NATURE

Quick message: Uniqueness. This card reminds you to recognise and honour your uniqueness and that of everyone else. Consciously contribute to the well-being of the natural world and notice how people, animals and plants respond to you. Check your thoughts, words and deeds are harmless and well-intentioned.

It is time to harvest your abundance.

Scorpio

: BLACK MAGE

Quick message: Change. This card indicates the end of a cycle. In this plane of duality, situations and relationships inevitably end, making room for different experiences. It is time to watch your ego and purify yourself, so that the new can be better than the old.

Watch your ego as you prepare for change.

Sagittarius

: CRYSTAL SKULLS

Quick message: The Unknown. Your guidance is that there is a mystery waiting to unfold for much is yet unknown. Perhaps new information is to come to you, or old memories or ancient wisdom may surface to help your conscious awareness. Be cautious about making a decision for you do not have the whole picture.

A mystery is waiting to unfold.
Capricorn

: PRESENCE

Quick message: Live in the now. Your guidance is to be fully present, emotionally as well as physically, for yourself and others today. The past is gone and churning about it is wasted energy. The future is yet to be written for you manifest it with your current thoughts.

Remain aware at all times.

Aquarius

: EXCELLENCE

Quick message: If you chose this card you may be presented with a challenge or responsibility. Accept it and do it graciously to the very best of your ability. It doesn't matter if you fail or succeed. participate with all your heart and soul in whatever life presents you.

Aim to do your best.

Pisces

: TECHNOLOGY

Quick message: Planetary responsibility. Do not be over-reliant on technology but give yourself time for your personal growth. Alternatively, this card may suggest that there are more possibilities in your life that you have yet to develop.

Use your time wisely and explore new possibilities.